Front brake disc pad check (Every 6000 miles or 6 months)
1 Place a mirror between the roadwheel and the caliper and check the thickness of the friction material of the disc pads (see illustration). If the material has worn down to the specified minimum or less, the pads must be renewed as an axle set (four pads).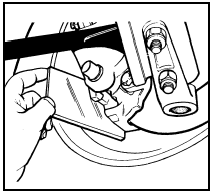 16.1 Checking the front disc pad wear using a mirror
2 For a comprehensive check, the brake pads should be removed and cleaned. This will permit the operation of the caliper to be checked, and the condition of the brake disc itself to be examined on both sides. Refer to Chapter 9 for further information.
See also:
Fuses and relays
Fuses If electrical components in the vehicle are not working, a fuse may have blown. Blown fuses are identified by a broken wire within the fuse. Check the appropriate fuses before replacing an ...
Exhaust system - renewal
1 The layout of the exhaust system varies considerably according to model and engine. All except the RS Turbo versions can be renewed in sections; coupling sleeves are supplied, enabling an old se ...
Accelerator pedal - removal and refitting
The procedure is the same as described in Part A of this Chapter for carburettor models. ...