Front brake disc pad check (Every 6000 miles or 6 months)
1 Place a mirror between the roadwheel and the caliper and check the thickness of the friction material of the disc pads (see illustration). If the material has worn down to the specified minimum or less, the pads must be renewed as an axle set (four pads).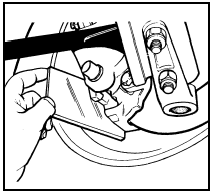 16.1 Checking the front disc pad wear using a mirror
2 For a comprehensive check, the brake pads should be removed and cleaned. This will permit the operation of the caliper to be checked, and the condition of the brake disc itself to be examined on both sides. Refer to Chapter 9 for further information.
See also:
Mixture adjustment potentiometer (2.0 litre DOHC) - removal and refitting
1 The potentiometer is located at the rear right-hand side of the engine compartment, behind the MAP sensor. 2 Disconnect the battery negative lead. 3 Remove the screw, then withdraw the potentio ...
Coded keys
Note: Do not shield your keys with metal objects. This may prevent the receiver from recognising your key as a valid one. Note: Have all of your remaining keys erased and recoded if you lose a key ...
Floor mats
WARNING: When using the floor mats, always make sure the floor mat is properly secured using the appropriate fixings and positioned so that it does not interfere with the operation of the pedals. ...