Front brake disc pad check (Every 6000 miles or 6 months)
1 Place a mirror between the roadwheel and the caliper and check the thickness of the friction material of the disc pads (see illustration). If the material has worn down to the specified minimum or less, the pads must be renewed as an axle set (four pads).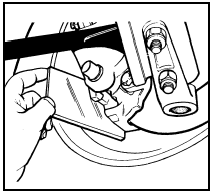 16.1 Checking the front disc pad wear using a mirror
2 For a comprehensive check, the brake pads should be removed and cleaned. This will permit the operation of the caliper to be checked, and the condition of the brake disc itself to be examined on both sides. Refer to Chapter 9 for further information.
See also:
Alternator - removal and refitting
Note: Refer to the precautions at the end of Section 1 before proceeding. Removal 1 The operations are similar for all makes of alternator. 2 Disconnect the battery negative terminal, then disco ...
Engine - complete dismantling
OHV engines 1 The need for dismantling will have been dictated by wear or noise in most cases. Although there is no reason why only partial dismantling cannot be carried out to renew such items a ...
Rear brake shoes - renewal
Warning: Brake shoes must be renewed on both rear wheels at the same time - never renew the shoes on only one wheel, as uneven braking may result. Also, the dust created by wear of the shoes may ...