Front brake disc pad check (Every 6000 miles or 6 months)
1 Place a mirror between the roadwheel and the caliper and check the thickness of the friction material of the disc pads (see illustration). If the material has worn down to the specified minimum or less, the pads must be renewed as an axle set (four pads).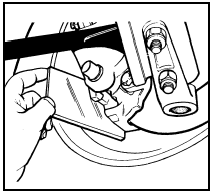 16.1 Checking the front disc pad wear using a mirror
2 For a comprehensive check, the brake pads should be removed and cleaned. This will permit the operation of the caliper to be checked, and the condition of the brake disc itself to be examined on both sides. Refer to Chapter 9 for further information.
See also:
Tailgate wiper motor - removal and refitting
Removal 1 Disconnect the battery and remove the wiper arm/blade assembly. 2 Remove the pivot shaft nut, spacer and outer seals. 3 Open the tailgate and remove the trim panel (refer to Chapter 11 ...
Fuel pressure regulator - removal and refitting
Note: Refer to the precautions at the end of Section 1 before proceeding. Removal 1 The fuel pressure regulator is only used on KE-Jetronic systems and is located behind the fuel distributor (see ...
Crankshaft front oil seal - renewal
1 Disconnect the battery negative lead. 2 Slacken the alternator mounting and adjuster bolts and after pushing the alternator in towards the engine, slip off the drivebelt. 3 Unscrew and remove th ...