Front brake disc pad check (Every 6000 miles or 6 months)
1 Place a mirror between the roadwheel and the caliper and check the thickness of the friction material of the disc pads (see illustration). If the material has worn down to the specified minimum or less, the pads must be renewed as an axle set (four pads).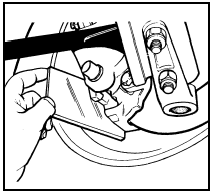 16.1 Checking the front disc pad wear using a mirror
2 For a comprehensive check, the brake pads should be removed and cleaned. This will permit the operation of the caliper to be checked, and the condition of the brake disc itself to be examined on both sides. Refer to Chapter 9 for further information.
See also:
Air vents
Air vents ...
Oil pump - removal and refitting
Note: A suitable puller will be required to remove the crankshaft pulley. A new crankshaft pulley bolt, a new lower timing chain cover gasket, and a new oil pump gasket, must be used on refitting. ...
Pistons and connecting rods - removal and refitting
Removal 1 Remove the sump and the cylinder head. 2 Check the big-end bearing caps for identification marks and if necessary use a centre-punch to identify the caps and corresponding connecting ro ...