Oil pump - removal and refitting
Removal
1 Remove the sump.
2 Unscrew the bolt securing the pick-up tube and strainer to the cylinder block (see illustration).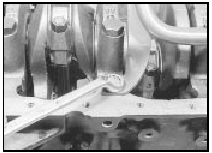 30.2 Unscrewing the oil pick-up tube securing bolt
3 Using a suitable splined socket, unscrew the two securing bolts and withdraw the oil pump and strainer (see illustration).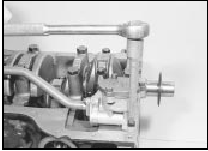 30.3 Unscrewing an oil pump securing bolt
4 If desired, the hexagon-shaped driveshaft can be withdrawn, but note which way round it is fitted (see illustration).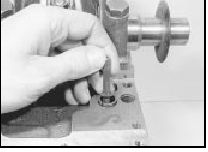 30.4 Withdrawing the oil pump driveshaft
The driveshaft
engages with the lower end of the distributor driveshaft.
5 Thoroughly clean the mating faces of the oil pump and cylinder block.
Refitting
6 Commence refitting by inserting the oil pump driveshaft into the cylinder block in its previously noted position.
7 Prime the pump by injecting oil into it and turning it by hand.
8 Fit the pump, insert the securing bolts, and tighten them to the specified torque.
9 Fit the pick-up tube securing bolt and tighten it.
10 Refit the sump.
See also:
Manifolds, exhaust and emission control systems
All models utilise a light alloy inlet manifold which on carburettor models is coolant heated to improve the atomisation of the fuel/air mixture. The exhaust manifold is of cast iron construction ...
Fuel injector - removal and refitting
Note: Refer to the precautions at the end of Section 1 before proceeding. New injector seals will be required on refitting. Removal 1 Disconnect the battery negative lead. 2 Remove the air cleane ...
Sump - removal and refitting
Note: New gaskets and sealing strips will be required for refitting, and sealing compound will be required to coat the gasket faces. Removal 1 If the engine is in the vehicle, proceed as follows, ...