Oil pump - removal and refitting
Removal
1 Remove the sump.
2 Unscrew the bolt securing the pick-up tube and strainer to the cylinder block (see illustration).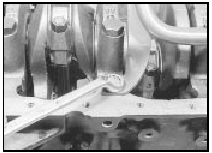 30.2 Unscrewing the oil pick-up tube securing bolt
3 Using a suitable splined socket, unscrew the two securing bolts and withdraw the oil pump and strainer (see illustration).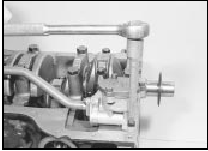 30.3 Unscrewing an oil pump securing bolt
4 If desired, the hexagon-shaped driveshaft can be withdrawn, but note which way round it is fitted (see illustration).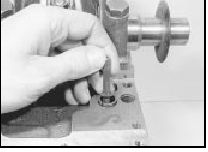 30.4 Withdrawing the oil pump driveshaft
The driveshaft
engages with the lower end of the distributor driveshaft.
5 Thoroughly clean the mating faces of the oil pump and cylinder block.
Refitting
6 Commence refitting by inserting the oil pump driveshaft into the cylinder block in its previously noted position.
7 Prime the pump by injecting oil into it and turning it by hand.
8 Fit the pump, insert the securing bolts, and tighten them to the specified torque.
9 Fit the pick-up tube securing bolt and tighten it.
10 Refit the sump.
See also:
Fuel and exhaust systems - fuel injection
General information and precautions General information 2.0 litre SOHC models The fuel injection system fitted to these models is of the Bosch L-Jetronic type. The system is under the overall con ...
Cylinder head and pistons - decarbonising
OHV engines 1 With the cylinder head removed (Section 4), the carbon deposits should be removed from the combustion spaces using a scraper and a wire brush fitted into an electric drill. Take care ...
Water pump - removal and refitting
OHV engines Note: A new gasket and suitable jointing compound must be used on refitting. Removal 1 Drain the cooling system as described in Chapter 1. 2 Slacken the three water pump pulley reta ...