Pistons and connecting rods - removal and refitting
Note: New connecting rod bolts and a new oil pick-up pipe gasket must be used on refitting.
Removal
1 Remove the sump and the cylinder head.
2 Unscrew the two securing bolts, and remove the oil pick-up pipe (see illustration).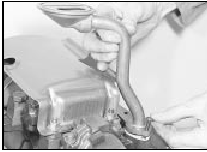 29.2 Removing the oil pick-up pipe
Recover the gasket.
3 Unscrew the four securing nuts, and withdraw the oil baffle from the studs on the main bearing caps (see illustration).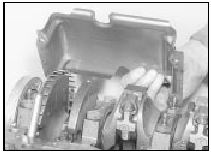 29.3 Withdrawing the oil baffle
4 Proceed as described in Chapter 2, Part A, Section 32, paragraphs 2 to 5.
Refitting
5 Proceed as described in Chapter 2, Part A, Section 32, paragraphs 6 to 13, noting the following points:
6 Take note of the orientation of the bearing shells during dismantling, and ensure that they are fitted correctly during reassembly.
7 When fitting the pistons, ensure that the arrow on the piston crown and the letter "F" on the face of the connecting rod are pointing towards the front of the engine.
8 Use new connecting rod bolts on reassembly, and before fitting, oil the threads and the contact faces of the bolts. Tighten the bolts in the three stages given in the Specifications at the beginning of this Chapter.
9 Refit the oil baffle, and tighten the securing nuts.
10 Clean the mating faces of the cylinder block and the oil pick-up pipe, and refit the pick-up pipe using a new gasket.
11 Refit the cylinder head and the sump.
See also:
Maintenance - upholstery and carpets
Mats and carpets should be brushed or vacuum cleaned regularly to keep them free of grit. If they are badly stained remove them from the vehicle for scrubbing or sponging and make quite sure they ...
Accelerator pedal - removal and refitting
The procedure is the same as described in Part A of this Chapter for carburettor models. ...
Fuel computer components - removal and refitting
Computer unit Removal 1 Disconnect the battery negative terminal. 2 Undo the two instrument panel bezel retaining screws and ease the bezel out to release the lower clips. 3 Withdraw the compute ...