Pistons and connecting rods - removal and refitting
Note: New connecting rod bolts and a new oil pick-up pipe gasket must be used on refitting.
Removal
1 Remove the sump and the cylinder head.
2 Unscrew the two securing bolts, and remove the oil pick-up pipe (see illustration).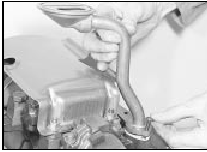 29.2 Removing the oil pick-up pipe
Recover the gasket.
3 Unscrew the four securing nuts, and withdraw the oil baffle from the studs on the main bearing caps (see illustration).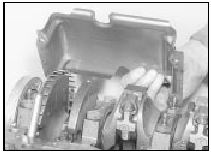 29.3 Withdrawing the oil baffle
4 Proceed as described in Chapter 2, Part A, Section 32, paragraphs 2 to 5.
Refitting
5 Proceed as described in Chapter 2, Part A, Section 32, paragraphs 6 to 13, noting the following points:
6 Take note of the orientation of the bearing shells during dismantling, and ensure that they are fitted correctly during reassembly.
7 When fitting the pistons, ensure that the arrow on the piston crown and the letter "F" on the face of the connecting rod are pointing towards the front of the engine.
8 Use new connecting rod bolts on reassembly, and before fitting, oil the threads and the contact faces of the bolts. Tighten the bolts in the three stages given in the Specifications at the beginning of this Chapter.
9 Refit the oil baffle, and tighten the securing nuts.
10 Clean the mating faces of the cylinder block and the oil pick-up pipe, and refit the pick-up pipe using a new gasket.
11 Refit the cylinder head and the sump.
See also:
Aerial - removal and refitting
Manually-operated type - all models except Cabriolet Removal 1 Withdraw the radio (Section 21) until the aerial lead can be pulled out of the receiver socket. 2 Working under the front wing, rel ...
Fuel tank - removal and refitting
Caution: Refer to the precautions in Section 1 before proceeding. 1 Run the fuel level as low as possible before removing the tank. 2 Disconnect the battery negative lead. 3 Remove the tank fill ...
Cleaning
WASHING THE EXTERIOR Wash your vehicle regularly with cool or lukewarm water and a neutral Ph shampoo, such as Motorcraft Detail Wash (ZC-3-A), which is available from your dealer. Never use st ...