Cargo area (P100 models) - removal and refitting
Note: A suitable lifting crane and tackle will be required for this operation.
Removal
1 Disconnect the battery negative lead.
2 Remove the fuel filler cap, then drain the fuel tank.
3 Remove the two securing screws and detach the fuel filler pipe from the cargo area.
4 Disconnect the number plate lamp and the rear lamp wiring plugs, and release the wiring from the cargo area.
5 Disconnect the earth lead from the righthand front cargo area mounting bracket underneath the vehicle.
6 Working underneath the vehicle, remove the three Torx bolts on each side securing the cargo area to the chassis (see illustration).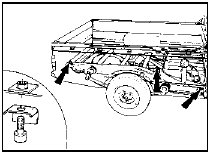 23.6 Cargo area-to-chassis Torx bolt locations (arrowed) - one side shown for clarity
7 Make up a cradle to lift the cargo area from the chassis, using suitable ropes or chains attached to the tonneau tie-down points.
8 Position the crane with the lifting arm diagonally over the centre of the cargo area, and attach the cradle. Carefully lift the cargo area from the chassis. Note that the lip of the cargo area rear panel fits over the rear chassis crossmember, therefore the cargo area must be pulled rearwards as it is removed to disengage it from the crossmember.
Refitting
9 Refitting is a reversal of removal, but ensure that the insulators are in place between the cargo area and the chassis. Before finally tightening the securing bolts, adjust the position of the cargo area to give an equal clearance on both sides of the vehicle between the cab rear panel and the cargo area front panel.
See also:
Spark plug renewal (Every 12 000 miles (20 000 km) or 12 months)
1 The correct functioning of the spark plugs is vital for the correct running and efficiency of the engine. It is essential that the plugs fitted are appropriate for the engine. 2 Make sure that t ...
Engine - reassembly
Note: Ensure that all necessary new oil seals and gaskets have been obtained before starting the reassembly procedure. OHV engines 1 With everything clean, commence reassembly by oiling the bores ...
Fluid leak check (Every 6000 miles or 6 months)
1 Visually inspect the engine joint faces, gaskets and seals for any signs of water or oil leaks. Pay particular attention to the areas around the rocker cover, cylinder head, oil filter and sump ...