Expansion tank and coolant level sensor - removal and refitting
Removal
1 With the engine cold, slowly unscrew the expansion tank cap to release any remaining pressure from the cooling system. Remove the cap.
2 Place a suitable container beneath the expansion tank.
3 Disconnect and plug the upper hose.
4 Where applicable, disconnect the coolant level sensor wiring plug.
5 Unscrew the expansion tank securing screws, and tilt the tank so that the coolant runs to the sealed end.
6 Disconnect and plug the lower hose.
7 Drain the expansion tank into the container and remove the tank.
8 Where applicable, the coolant level sensor can be removed from the tank by unscrewing the collar from the sensor, then withdrawing the spacer, sensor and seal (see illustration).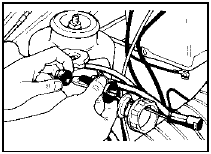 15.8a Removing the coolant level sensor from the expansion tank
Renew the seal if necessary. Note that the sensor can only be fitted in one position (see illustration).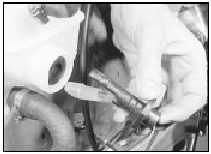 15.8b Fitting the coolant level sensor
Refitting
9 Refitting is a reversal of removal.
10 On completion, top-up the coolant level to the maximum mark, then refit the expansion tank cap and run the engine at a fast idling speed for several minutes. Check the expansion tank for leaks, then stop the engine and if necessary top-up the coolant level.
See also:
Bonnet lock - removal and refitting
Removal 1 Extract the three securing screws from the lock and lower it until the cable can be disconnected. 2 Withdraw the lock from below the top rail. Refitting 3 Refit by reversing the remova ...
Temperature gauge sender removal and refitting
Removal 1 On SOHC models, the temperature gauge sender is located on the front left-hand side of the cylinder head, just in front of the inlet manifold. On CVH models, the sender is located on th ...
Engine/automatic transmission assembly - reconnection and refitting
1 Reverse the removal procedure described in Section 12, noting the following points. 2 Check that the engine adapter plate is correctly positioned on its locating dowels. 3 As the torque converte ...