Expansion tank and coolant level sensor - removal and refitting
Removal
1 With the engine cold, slowly unscrew the expansion tank cap to release any remaining pressure from the cooling system. Remove the cap.
2 Place a suitable container beneath the expansion tank.
3 Disconnect and plug the upper hose.
4 Where applicable, disconnect the coolant level sensor wiring plug.
5 Unscrew the expansion tank securing screws, and tilt the tank so that the coolant runs to the sealed end.
6 Disconnect and plug the lower hose.
7 Drain the expansion tank into the container and remove the tank.
8 Where applicable, the coolant level sensor can be removed from the tank by unscrewing the collar from the sensor, then withdrawing the spacer, sensor and seal (see illustration).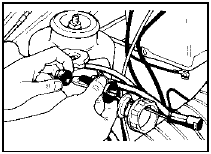 15.8a Removing the coolant level sensor from the expansion tank
Renew the seal if necessary. Note that the sensor can only be fitted in one position (see illustration).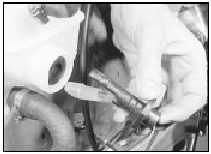 15.8b Fitting the coolant level sensor
Refitting
9 Refitting is a reversal of removal.
10 On completion, top-up the coolant level to the maximum mark, then refit the expansion tank cap and run the engine at a fast idling speed for several minutes. Check the expansion tank for leaks, then stop the engine and if necessary top-up the coolant level.
See also:
Spark plug renewal (Every 12 000 miles (20 000 km) or 12 months)
1 The correct functioning of the spark plugs is vital for the correct running and efficiency of the engine. It is essential that the plugs fitted are appropriate for the engine. 2 Make sure that t ...
Seating
Notes: Reclining the seatback can cause an occupant to slide under the seat's safety belt, resulting in severe personal injuries in the event of a collision. Do not pile cargo higher than the seat ...
Oil pump - dismantling, inspection and reassembly
Note: A new pressure relief valve plug and pick-up tube gasket will be required for reassembly. Dismantling 1 If oil pump wear is suspected, check the cost and availability of new parts and the c ...