Expansion tank and coolant level sensor - removal and refitting
Removal
1 With the engine cold, slowly unscrew the expansion tank cap to release any remaining pressure from the cooling system. Remove the cap.
2 Place a suitable container beneath the expansion tank.
3 Disconnect and plug the upper hose.
4 Where applicable, disconnect the coolant level sensor wiring plug.
5 Unscrew the expansion tank securing screws, and tilt the tank so that the coolant runs to the sealed end.
6 Disconnect and plug the lower hose.
7 Drain the expansion tank into the container and remove the tank.
8 Where applicable, the coolant level sensor can be removed from the tank by unscrewing the collar from the sensor, then withdrawing the spacer, sensor and seal (see illustration).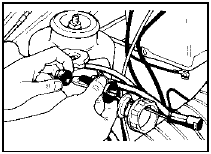 15.8a Removing the coolant level sensor from the expansion tank
Renew the seal if necessary. Note that the sensor can only be fitted in one position (see illustration).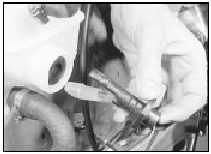 15.8b Fitting the coolant level sensor
Refitting
9 Refitting is a reversal of removal.
10 On completion, top-up the coolant level to the maximum mark, then refit the expansion tank cap and run the engine at a fast idling speed for several minutes. Check the expansion tank for leaks, then stop the engine and if necessary top-up the coolant level.
See also:
Body electrical system
General information and precautions General information The electrical system is of the 12 volt. negative earth type. Electricity is generated by an alternator, belt-driven from the crankshaft pu ...
Interior lamp bulbs - renewal
1 Disconnect the battery negative lead. Courtesy lamp 2 Remove the courtesy lamp. 3 Unclip the bulb from the lamp. On models fitted with an overhead console and map reading lamps, the courtesy la ...
Sump - removal and refitting
Note: New gaskets and sealing strips must be used on refitting. Removal 1 Disconnect the battery negative lead and drain the engine oil (see Chapter 1). 2 Refer to Chapter 5, Part A and remove th ...