Sump - removal and refitting
Note: New gaskets and sealing strips must be used on refitting.
Removal
1 Disconnect the battery negative lead and drain the engine oil (see Chapter 1).
2 Refer to Chapter 5, Part A and remove the starter motor.
3 Unbolt and remove the clutch cover plate.
4 Extract the sump securing bolts and remove the sump. If it is stuck, prise it gently with a screwdriver but do not use excessive leverage. If it is very tight, cut round the gasket joint using a sharp knife.
Refitting
5 Before refitting the sump, remove the front and rear sealing strips and gaskets. Clean the mating surfaces of the sump and cylinder block.
6 Stick new gaskets into position on the block using thick grease to retain them, then install new sealing strips into their grooves so that they overlap the gaskets (see illustrations).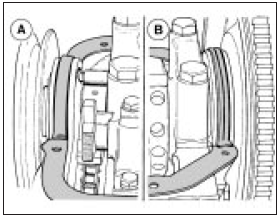 5.6a Sump gasket fitting details at timing cover end (A) and flywheel end (B)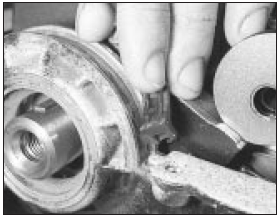 5.6b Fitting the sump gasket sealing strips to overlap the tabs on the gasket
7 Before offering up the sump, check that the gap between the sump and the oil baffle is between 2.0 and 3.8 mm (see illustration).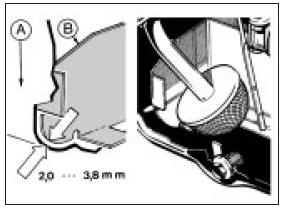 5.7 Sump and oil baffle clearance details
A Sump B Baffle
8 Screw in the sump bolts and tighten in three stages to the specified torque in the sequence shown (see illustration).
a) Stage 1- in alphabetical order b) Stage 2 - in numerical order c) Stage 3 - in alphabetical order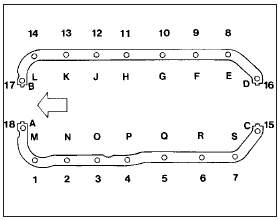 5.8 Sump bolt tightening sequence
9 It is important to follow this procedure in order to provide positive sealing against oil leakage.
10 Refit the clutch cover plate and the starter motor and reconnect the battery.
11 Refill the engine with the correct grade and quantity of oil.
See also:
U.S. DOT Tire Identification Number (TIN)
Both U.S. and Canada Federal regulations require tire manufacturers to place standardized information on the sidewall of all tires. This information identifies and describes the fundamental characte ...
Handbrake cable - adjustment
Note: Where fitted, the adjuster locking pin must be renewed on completion of adjustment. Conventional braking system (except P100 models) 1 The handbrake cable is normally self-adjusting in use ...
Heated seats
CAUTION: Operating this function with the engine off will drain the battery. The seat heating will operate only when the ignition is switched on. The maximum temperature is reached after five ...