Heater controls - removal and refitting
Removal
1 Disconnect the battery negative lead.
2 Remove the securing screws and unclip the lower and upper steering column shrouds.
3 Remove the four securing screws and withdraw the instrument panel surround. Note that the bottom right-hand screw is covered by a plastic panel which must be prised out.
4 Remove the passenger side lower facia panel.
5 Where necessary for improved access, detach the two vent hoses from the left-hand side of the heater, then detach the lower ends of the two control cables from the heater by removing the retaining screws (see illustration).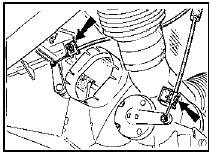 17.5 Heater control cable lower end fittings (arrowed)
6 Unscrew the three securing screws, and remove the heater control panel by sliding it through the facia panel and withdrawing it downwards. Disconnect the wiring from the control panel illumination bulb.
7 If necessary, the bulb can be removed with its holder.
Refitting
8 Refitting is a reversal of removal, bearing in mind the following points.
9 When reconnecting the wiring to the control panel illumination bulb, wrap insulating tape around the wiring loom over a length of approximately 330.0 mm (13.0 in) starting from the bulbholder. Route the loom, ensuring that it is located in the two retaining clips, bend it over and secure it to the bulbholder with insulating tape as shown (see illustration). This procedure will prevent the wiring loom from chafing against the heater control levers.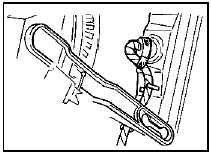 17.9 Heater control panel illumination bulb wiring loom correctly routed
10 When reconnecting the control cables to the heater, move the control levers on the control panel to the fully up position, then attach the cables to the clips on the heater.
The cable ends should project from the clips by between 0 and 4.0 mm (0 and 0.16 in). The cables are adjusted automatically by moving the control levers fully downwards. It is possible that considerable resistance may have to be overcome when moving the control levers.
See also:
Carburettor fuel system
The fuel system on all models with carburettor induction is composed of a centrally mounted fuel tank, a fuel pump, a carburettor and an air cleaner. The fuel tank is mounted under the floor pan ...
Boot lid (Cabriolet models) - removal and refitting
Removal 1 Open the boot and prop it open using a length of wood. 2 Pull out the clips securing the gas strut and remove the strut. 3 Working inside the boot, undo the nuts securing the hinge ass ...
Engine coolant
Checking engine coolant The concentration and level of engine coolant should be checked at the mileage intervals listed in the scheduled maintenance guide. The coolant concentration should be maint ...