Heater motor - removal and refitting
Removal
1 Disconnect the battery negative lead.
2 Where necessary, unclip the brake servo vacuum hose for improved access.
3 On models from 1987, unclip the windscreen washer hoses and wiring from the motor cover, and secure them to the bodywork out of the way.
4 Unscrew the two securing bolts from the motor cover, pull off the rubber moulding, then withdraw the cover (see illustration).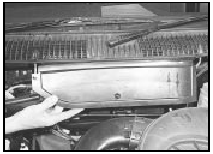 20.4 Unscrew the securing bolts and withdraw the heater motor cover
5 Disconnect the wiring from the motor, and detach the earth lead from its bracket.
6 Unscrew the two motor securing nuts, and withdraw the motor assembly (see illustration).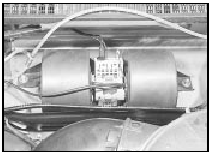 20.6 Heater motor and wiring
7 Unclip the casing halves, then prise open the motor retaining strap using a screwdriver, or if necessary a drift.
8 Detach the wiring from the motor, then remove the motor and fan wheels from the casing.
Refitting
9 Refitting is a reversal of removal.
See also:
Accessories
FORD ACCESSORIES FOR YOUR VEHICLE A wide selection of genuine Ford accessories are available for your vehicle through your local authorized Ford, Lincoln, Mercury or Ford of Canada dealer. These qu ...
Fuel tank - removal and refitting
The procedure is as described in Part A of this Chapter for carburettor engines. ...
Electrical fault-finding - general information
Note: Refer to the precautions given in "Safety first!" and in Section 1 of this Chapter before starting work. The following tests relate to testing of the main electrical circuits, and should not ...