Heater motor - removal and refitting
Removal
1 Disconnect the battery negative lead.
2 Where necessary, unclip the brake servo vacuum hose for improved access.
3 On models from 1987, unclip the windscreen washer hoses and wiring from the motor cover, and secure them to the bodywork out of the way.
4 Unscrew the two securing bolts from the motor cover, pull off the rubber moulding, then withdraw the cover (see illustration).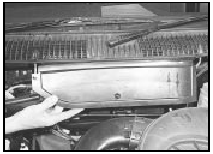 20.4 Unscrew the securing bolts and withdraw the heater motor cover
5 Disconnect the wiring from the motor, and detach the earth lead from its bracket.
6 Unscrew the two motor securing nuts, and withdraw the motor assembly (see illustration).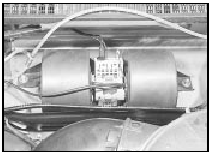 20.6 Heater motor and wiring
7 Unclip the casing halves, then prise open the motor retaining strap using a screwdriver, or if necessary a drift.
8 Detach the wiring from the motor, then remove the motor and fan wheels from the casing.
Refitting
9 Refitting is a reversal of removal.
See also:
Bodywork and fittings
General information The model range includes 4-door Saloon, 3 and 5-door Hatchback, 5-door Estate, and 2- door Pick-up body styles. Each body is of all-steel welded energyabsorbing monocoque cons ...
Engine oil and filter renewal (Every 6000 miles or 6 months)
1 Frequent oil and filter changes are the most important preventative maintenance procedures that can be undertaken by the DIY owner. As engine oil ages, it becomes diluted and contaminated, which ...
Load apportioning valve (P100 models) - adjustment
Models before mid-April 1989 1 The vehicle must be unladen, at normal kerb weight (a full tank of petrol, but no driver or load). 2 With the vehicle standing on its roadwheels, remove the spring ...