Heater motor - removal and refitting
Removal
1 Disconnect the battery negative lead.
2 Where necessary, unclip the brake servo vacuum hose for improved access.
3 On models from 1987, unclip the windscreen washer hoses and wiring from the motor cover, and secure them to the bodywork out of the way.
4 Unscrew the two securing bolts from the motor cover, pull off the rubber moulding, then withdraw the cover (see illustration).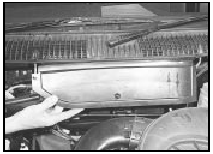 20.4 Unscrew the securing bolts and withdraw the heater motor cover
5 Disconnect the wiring from the motor, and detach the earth lead from its bracket.
6 Unscrew the two motor securing nuts, and withdraw the motor assembly (see illustration).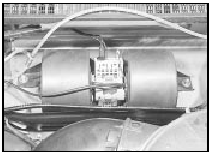 20.6 Heater motor and wiring
7 Unclip the casing halves, then prise open the motor retaining strap using a screwdriver, or if necessary a drift.
8 Detach the wiring from the motor, then remove the motor and fan wheels from the casing.
Refitting
9 Refitting is a reversal of removal.
See also:
Knock sensor - removal and refitting
Removal 1 The knock sensor is screwed into the cylinder block, near the oil filter (see illustration). 15.1 Knock sensor location - 1.4 CFI engine A Knock sensor B Wiring plug C Securing bolt ...
Bonnet lock - removal and refitting
Removal 1 Extract the three securing screws from the lock and lower it until the cable can be disconnected. 2 Withdraw the lock from below the top rail. Refitting 3 Refit by reversing the remova ...
Driveshaft check (Every 12 000 miles or 12 months)
1 Carry out a thorough inspection of the driveshafts and joints as follows. 2 Jack up the front of the car and support it securely on axle stands (see "Jacking and Vehicle Support"). 3 Slowly rot ...