Fuel pump - testing
1 If the fuel pump is functioning, it should be possible to hear it "buzzing" by listening under the rear of the vehicle when the ignition is switched on. Unless the engine is started, the fuel pump should switch off after approximately one second. If the noise produced is excessive, this may be due to a faulty fuel flow damper (not fitted to 2.0 litre DOHC models). The damper can be renewed by unscrewing it from the pump outlet union.
2 If the pump appears to have failed completely, check the appropriate fuse and relay, and where applicable check the state of the fuel pump inertia cut-off switch as follows.
3 The inertia cut-off switch is fitted to all models from mid-1986 onwards, and can be found behind the passenger compartment left-hand side trim panel on Hatchback and Estate models up to the 1987 model year (see illustration).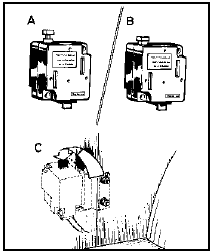 7.3a Fuel pump inertia cut-off switch - pre- 1987 SOHC Hatchback and Estate models

A Activated mode (fuel cut-off) B Normal mode (fuel flowing) C Trim panel access hole
The location of the switch for all other models is in the spare wheel well (see illustration).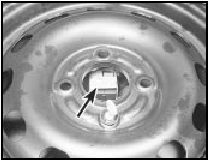 7.3b Fuel pump inertia cut-off switch location (arrowed) under spare wheel
The switch incorporates a reset button, which should normally be in the depressed position. Check the position of the reset button before assuming that a fault exists in the fuel pump.
4 To test the fuel pump, special equipment is required, and it is recommended that any suspected faults are referred to a Ford dealer.
See also:
Starting and charging systems
The engine electrical system includes all charging, starting and ignition system components and the engine oil pressure sensor. ...
Radiator - removal, inspection and refitting
All models except RS Turbo Pre-1986 models Removal 1 Drain the cooling system as described in Chapter 1. 2 Disconnect the battery negative terminal. 3 Release the retaining clips and disconnect ...
Front suspension strut - removal, overhaul and refitting
Note: A spring compressor tool will be required if the strut is to be dismantled. Removal 1 Loosen the relevant front roadwheel nuts, apply the handbrake, jack up the front of the vehicle and sup ...