EEC IV module - removal and refitting
Removal
1 The EEC IV module is located behind the centre console, beneath the trim panel (see illustration).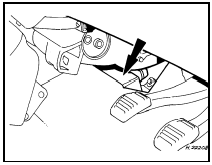 20.1 EEC IV module location (arrowed) 1.4 CFI engine
2 Disconnect the battery negative lead.
3 Remove the trim panel to expose the module, then pull the module from its bracket behind the centre console.
4 Loosen the screw securing the wiring plug, then disconnect the plug and withdraw the module.
Refitting
5 Refitting is a reversal of removal.
See also:
Exhaust manifold - removal and refitting
2.0 litre SOHC models 1 Refer to Chapter 4 Part A, Section 26, but note the following points. 2 Ignore the references to removal and refitting of the air cleaner and hot air pick-up pipe, and not ...
Crankshaft and main bearings - removal and refitting
Removal 1 With the engine removed from the vehicle, remove the timing belt, crankshaft sprocket, auxiliary shaft sprocket and the flywheel/driveplate. 2 Remove the pistons and connecting rods. If ...
Interior trim panels - removal and refitting
Rear quarter trim panel Removal 1 Unbolt the seat belt from its floor mounting. 2 Pass the belt buckle slide through the panel aperture. 3 Pull the seat cushion and backrest forward. 4 Extract t ...