EEC IV module - removal and refitting
Removal
1 The EEC IV module is located behind the centre console, beneath the trim panel (see illustration).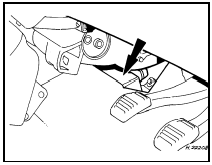 20.1 EEC IV module location (arrowed) 1.4 CFI engine
2 Disconnect the battery negative lead.
3 Remove the trim panel to expose the module, then pull the module from its bracket behind the centre console.
4 Loosen the screw securing the wiring plug, then disconnect the plug and withdraw the module.
Refitting
5 Refitting is a reversal of removal.
See also:
Major operations requiring engine removal
The following work can only be carried out after removal of the engine from the car: a) Crankshaft main bearings - renewal . b) Crankshaft - removal and refitting. c) Flywheel - removal and refitt ...
Radio/cassette player and graphic equaliser - removal and refitting
Note: The information in this Section applies to Ford original equipment fitment components. Radio Early models Removal 1 Disconnect the battery. 2 Pull off the control knobs, the tuning knob s ...
Cylinder head and pistons - decarbonising
OHV engines 1 With the cylinder head removed (Section 4), the carbon deposits should be removed from the combustion spaces using a scraper and a wire brush fitted into an electric drill. Take care ...