EEC IV module - removal and refitting
Removal
1 The EEC IV module is located behind the centre console, beneath the trim panel (see illustration).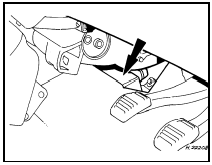 20.1 EEC IV module location (arrowed) 1.4 CFI engine
2 Disconnect the battery negative lead.
3 Remove the trim panel to expose the module, then pull the module from its bracket behind the centre console.
4 Loosen the screw securing the wiring plug, then disconnect the plug and withdraw the module.
Refitting
5 Refitting is a reversal of removal.
See also:
Suspension and steering
General information The front suspension is of independent MacPherson strut type incorporating coil springs and integral telescopic shock absorbers. The lower end of each strut is attached to a h ...
Contact breaker points renewal (Every 12 000 miles or 12 months)
1 Spring back the retaining clips or undo the screws as appropriate and lift off the distributor cap. 2 Withdraw the rotor arm from the distributor shaft. 3 On the Bosch distributor disconnect th ...
Front suspension lower arm - removal, overhaul and refitting
Note: A balljoint separator tool will be required for this operation. Removal 1 To improve access, raise the front of the vehicle on ramps. Do not jack the vehicle up at this stage. Apply the han ...