EEC IV module - removal and refitting
Removal
1 The EEC IV module is located behind the centre console, beneath the trim panel (see illustration).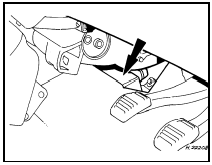 20.1 EEC IV module location (arrowed) 1.4 CFI engine
2 Disconnect the battery negative lead.
3 Remove the trim panel to expose the module, then pull the module from its bracket behind the centre console.
4 Loosen the screw securing the wiring plug, then disconnect the plug and withdraw the module.
Refitting
5 Refitting is a reversal of removal.
See also:
Parking brake
All vehicles WARNING: Vehicles with an automatic transmission should always be left with the selector lever in position P. • Press the foot brake pedal firmly. • Pull the parking brake lever up ...
Safety precautions
WARNINGS: Stop refuelling after the fuel nozzle stops the second time. Additional fuel will fill the expansion space in the fuel tank which could lead to fuel overflowing. Fuel spillage could be ...
Ford Sierra Road Test
Virtually the last of the rear-wheel-drive rep-mobiles, the Sierra was always a good-handler, compared to many of its contemporary front-drive competitors. Trouble is, what was a good chassis at t ...