EEC IV module - removal and refitting
Removal
1 The EEC IV module is located behind the centre console, beneath the trim panel (see illustration).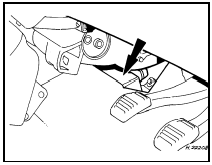 20.1 EEC IV module location (arrowed) 1.4 CFI engine
2 Disconnect the battery negative lead.
3 Remove the trim panel to expose the module, then pull the module from its bracket behind the centre console.
4 Loosen the screw securing the wiring plug, then disconnect the plug and withdraw the module.
Refitting
5 Refitting is a reversal of removal.
See also:
Inlet manifold - removal and refitting
Caution: Refer to the precautions in Section 1 before proceeding. Note: A tachometer and an exhaust gas analyser will be required to check the idle mixture on completion. A new gasket must be us ...
Intensive maintenance
If, from the time the vehicle is new, the routine maintenance schedule is followed closely and frequent checks are made of fluid levels and high wear items, as suggested throughout this manual, th ...
Fuel computer components - removal and refitting
Computer unit Removal 1 Disconnect the battery negative terminal. 2 Undo the two instrument panel bezel retaining screws and ease the bezel out to release the lower clips. 3 Withdraw the compute ...