EEC IV module - removal and refitting
Removal
1 The EEC IV module is located behind the centre console, beneath the trim panel (see illustration).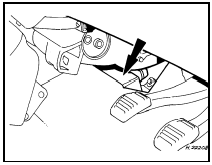 20.1 EEC IV module location (arrowed) 1.4 CFI engine
2 Disconnect the battery negative lead.
3 Remove the trim panel to expose the module, then pull the module from its bracket behind the centre console.
4 Loosen the screw securing the wiring plug, then disconnect the plug and withdraw the module.
Refitting
5 Refitting is a reversal of removal.
See also:
Engine oil and filter renewal (Every 6000 miles or 6 months)
1 Frequent oil and filter changes are the most important preventative maintenance procedures that can be undertaken by the DIY owner. As engine oil ages, it becomes diluted and contaminated, which ...
Crankshaft front oil seal - renewal
1 Disconnect the battery negative lead. 2 Slacken the alternator mounting and adjuster bolts and after pushing the alternator in towards the engine, slip off the drivebelt. 3 Unscrew and remove th ...
Vehicle Identification Numbers
Modifications are a continuing and unpublicised process in vehicle manufacture, quite apart from major model changes. Spare parts manuals and lists are compiled upon a numerical basis, the individ ...