Exhaust gas oxygen (HEGO) sensor (2.0 litre DOHC/1.6 & 1.8 litre (R6A type) CVH) - removal and refitting
Note: Do not touch the tip of the HEGO sensor as this will drastically shorten its service life.
Note: A new sealing ring should be used on refitting.
Removal
1 Ensure that the engine and the exhaust system are cold.
2 Disconnect the battery negative lead.
3 Apply the handbrake, then jack up the front of the vehicle, and support it securely on axle stands (see "Jacking and Vehicle Support").
4 Disconnect the sensor wiring plug halves by releasing the locktabs and pulling on the plug halves, not the wiring.
5 Where fitted, slide the heat shield from the sensor (see illustration).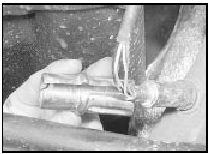 35.5 Sliding the heat shield from the exhaust gas oxygen sensor
6 Unscrew the sensor from the exhaust downpipe, and recover the sealing ring. Do not touch the tip of the sensor if it is to be refitted.
Refitting
7 Commence refitting by ensuring that the sensor threads and the corresponding threads in the downpipe are clean.
8 Refit the sensor using a new sealing ring, and tighten it to the specified torque.
9 Further refitting is a reversal of removal, but on completion start the engine, and check for leaks around the sensor sealing ring.
See also:
Throttle body - removal and refitting
Note: A tachometer and an exhaust gas analyser will be required to check the idle mixture on completion. A new gasket must be used when refitting the throttle body. 2.0 litre SOHC models 1 Discon ...
Handbrake cables - renewal
1 Chock the front wheels, then fully release the handbrake. 2 Raise and support the vehicle at the rear with axle stands (see "Jacking and Vehicle Support"). Primary cable 3 Extract the spring c ...
Cold start valve - removal and refitting
Note: Refer to the precautions at the end of Section 1 before proceeding. K-Jetronic system Removal 1 Disconnect the battery earth lead. 2 Detach the electrical wiring multi-plug from the valve ...