Starter motor - removal and refitting
Removal
1 Apply the handbrake, jack up the front of the vehicle and support on axle stands (see "Jacking and Vehicle Support").
2 Disconnect the battery negative lead.
3 Working underneath the vehicle, unscrew the nut and disconnect the main cable from the starter solenoid (see illustration).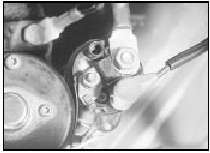 8.3 Solenoid wiring connections on Lucas M79 starter motor- CVH engine
4 Disconnect the ignition switch wire from the solenoid.
5 Unscrew the three mounting bolts and withdraw the starter motor from the gearbox bellhousing (see illustration).

8.5 Unscrew the starter motor mounting bolts
Refitting
6 Refitting is a reversal of removal.
See also:
Crankcase ventilation system check (Every 12 000 miles (20 000 km) or 12 months)
1 Inspect the crankcase ventilation system for blockage or damage. A blocked hose can cause a build-up of crankcase pressure, which in turn can cause oil leaks (see illustration). 35.1 Loosenin ...
Loudspeakers - removal and refitting
1 Disconnect the battery earth lead. Facia panel-mounted speakers Upper 2 Prise the speaker grille from its four retaining clips in the facia using a thin-bladed screwdriver. 3 Remove the four s ...
Crankshaft rear oil seal - renewal
1 Remove the flywheel/driveplate. 2 Prise out the oil seal. If necessary, drill the outer face of the oil seal and use self-tapping screws and a pair of grips to withdraw the seal (see illustratio ...