Starter motor - removal and refitting
Removal
1 Apply the handbrake, jack up the front of the vehicle and support on axle stands (see "Jacking and Vehicle Support").
2 Disconnect the battery negative lead.
3 Working underneath the vehicle, unscrew the nut and disconnect the main cable from the starter solenoid (see illustration).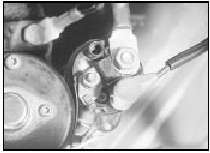 8.3 Solenoid wiring connections on Lucas M79 starter motor- CVH engine
4 Disconnect the ignition switch wire from the solenoid.
5 Unscrew the three mounting bolts and withdraw the starter motor from the gearbox bellhousing (see illustration).

8.5 Unscrew the starter motor mounting bolts
Refitting
6 Refitting is a reversal of removal.
See also:
Loudspeakers - removal and refitting
1 Disconnect the battery earth lead. Facia panel-mounted speakers Upper 2 Prise the speaker grille from its four retaining clips in the facia using a thin-bladed screwdriver. 3 Remove the four s ...
Electrical fault-finding - general information
Note: Refer to the precautions given in "Safety first!" and in Section 1 of this Chapter before starting work. The following tests relate to testing of the main electrical circuits, and should not ...
Alternator drivebelt check (Every 6000 miles or 6 months)
1 A conventional vee drivebelt is used to drive both the alternators and water pump pulleys on OHV and HCS engines, and the alternator pulley only on CVH engines, power being transmitted via a pul ...