Starter motor - removal and refitting
Removal
1 Apply the handbrake, jack up the front of the vehicle and support on axle stands (see "Jacking and Vehicle Support").
2 Disconnect the battery negative lead.
3 Working underneath the vehicle, unscrew the nut and disconnect the main cable from the starter solenoid (see illustration).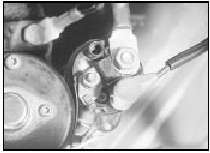 8.3 Solenoid wiring connections on Lucas M79 starter motor- CVH engine
4 Disconnect the ignition switch wire from the solenoid.
5 Unscrew the three mounting bolts and withdraw the starter motor from the gearbox bellhousing (see illustration).

8.5 Unscrew the starter motor mounting bolts
Refitting
6 Refitting is a reversal of removal.
See also:
Road test (Every 12 000 miles (20 000 km) or 12 months)
Instruments and electrical equipment 1 Check the operation of all instruments and electrical equipment. 2 Make sure that all instruments read correctly, and switch on all electrical equipment in ...
Dimensions and Weights
Note: All figures are approximate, and may vary according to model. Refer to manufacturer's data for exact figures. Dimensions Overall length: Pre-1986 models: Saloon and Cabriolet . . . . . . . ...
Bulbs (interior lamps) - renewal
Pre-1986 models Glove compartment lamp 1 This is simply a matter of gently pulling the bulb from its holder. Heater control illumination lamp 2 Slide the heater control levers to the top of thei ...