Throttle housing - removal and refitting
Note: A new gasket must be used on refitting.
Removal
1 Disconnect the battery negative lead.
2 Depressurise the fuel system as described in Section 6.
3 Remove the air inlet pipe (see illustration).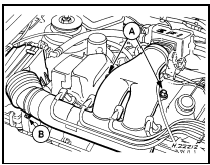 9.3 Air inlet pipe securing screws (A) and hose securing clip (B) - 1.6 EFI engine
4 Disconnect the throttle cable from the throttle valve linkage, then unbolt the cable bracket from the housing.
5 Disconnect the throttle position sensor wiring plug.
6 Unscrew the four securing nuts, and withdraw the throttle housing from the inlet manifold. Recover the gasket.
Refitting
7 Refitting is a reversal of removal, but use a new gasket between the throttle housing and the inlet manifold.
See also:
Auxiliary power sockets
CAUTION: If you use the socket when the engine is not running, the battery may discharge. Note: You can use the socket when the ignition is switched off. Note: You can use the socket to power 1 ...
Engine electrical systems
The electrical system is of the 12 volt negative earth type, and consists of a 12 volt battery, alternator with integral voltage regulator, starter motor and related electrical accessories, compon ...
Bulb specification chart
1Fit a replacement with the same rating as the one you have removed. ...