Throttle housing - removal and refitting
Note: A new gasket must be used on refitting.
Removal
1 Disconnect the battery negative lead.
2 Depressurise the fuel system as described in Section 6.
3 Remove the air inlet pipe (see illustration).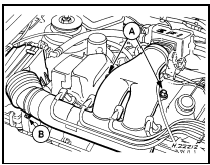 9.3 Air inlet pipe securing screws (A) and hose securing clip (B) - 1.6 EFI engine
4 Disconnect the throttle cable from the throttle valve linkage, then unbolt the cable bracket from the housing.
5 Disconnect the throttle position sensor wiring plug.
6 Unscrew the four securing nuts, and withdraw the throttle housing from the inlet manifold. Recover the gasket.
Refitting
7 Refitting is a reversal of removal, but use a new gasket between the throttle housing and the inlet manifold.
See also:
Vehicle Identification Numbers
Modifications are a continuing and unpublicised process in vehicle manufacture, quite apart from major model changes. Spare parts manuals and lists are compiled upon a numerical basis, the individ ...
Throttle position sensor - removal and refitting
Note: During this procedure ensure that the sensor wiper is not rotated beyond its normal operating arc. 2.0 litre SOHC models 1 Disconnect the battery negative lead. 2 Free the throttle position ...
Front suspension crossmember - removal and refitting
Removal 1 Remove the steering gear. 2 Support the engine with a jack and interposed block of wood under the sump. 3 Unscrew and remove the engine mounting nuts from the top of the mountings in th ...