Throttle housing - removal and refitting
Note: A new gasket must be used on refitting.
Removal
1 Disconnect the battery negative lead.
2 Depressurise the fuel system as described in Section 6.
3 Remove the air inlet pipe (see illustration).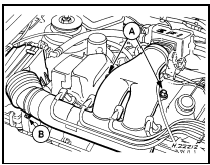 9.3 Air inlet pipe securing screws (A) and hose securing clip (B) - 1.6 EFI engine
4 Disconnect the throttle cable from the throttle valve linkage, then unbolt the cable bracket from the housing.
5 Disconnect the throttle position sensor wiring plug.
6 Unscrew the four securing nuts, and withdraw the throttle housing from the inlet manifold. Recover the gasket.
Refitting
7 Refitting is a reversal of removal, but use a new gasket between the throttle housing and the inlet manifold.
See also:
Bodywork and fittings
General information The model range includes 4-door Saloon, 3 and 5-door Hatchback, 5-door Estate, and 2- door Pick-up body styles. Each body is of all-steel welded energyabsorbing monocoque cons ...
Seats - removal and refitting
Front seat Removal 1 Slide the seat as far forward as it will go. 2 Unscrew and remove the bolts which retain the rear of the seat slides to the floor pan. 3 Slide the seat as far to the rear as ...
Radiator - removal, inspection and refitting
All models except RS Turbo Pre-1986 models Removal 1 Drain the cooling system as described in Chapter 1. 2 Disconnect the battery negative terminal. 3 Release the retaining clips and disconnect ...