Throttle housing - removal and refitting
Note: A new gasket must be used on refitting.
Removal
1 Disconnect the battery negative lead.
2 Depressurise the fuel system as described in Section 6.
3 Remove the air inlet pipe (see illustration).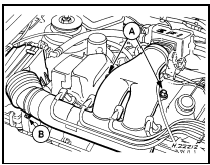 9.3 Air inlet pipe securing screws (A) and hose securing clip (B) - 1.6 EFI engine
4 Disconnect the throttle cable from the throttle valve linkage, then unbolt the cable bracket from the housing.
5 Disconnect the throttle position sensor wiring plug.
6 Unscrew the four securing nuts, and withdraw the throttle housing from the inlet manifold. Recover the gasket.
Refitting
7 Refitting is a reversal of removal, but use a new gasket between the throttle housing and the inlet manifold.
See also:
Rear suspension/final drive unit rear mounting (Saloon, Hatchback and Estate models) - renewal
Note: From May 1986, revised rear suspension/final drive unit rear mounting bolts have been used in production. Whenever the earlier type of bolts are removed, they should be discarded and the lat ...
Inner gutter weatherstrip (Saloon, Hatchback and Estate models) - removal and refitting
Removal 1 Open both the front and rear doors to expose the relevant weatherstrip. 2 Carefully pull the weatherstrip from the base of the front pillar, taking care to release the flap which is stu ...
Cooling, heating and air conditioning systems
General information and precautions General information The cooling system is of pressurised type, and consists of a front mounted radiator, coolant pump, cooling fan, wax type thermostat, and an ...