Throttle housing - removal and refitting
Note: A new gasket must be used on refitting.
Removal
1 Disconnect the battery negative lead.
2 Depressurise the fuel system as described in Section 6.
3 Remove the air inlet pipe (see illustration).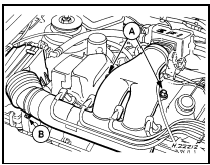 9.3 Air inlet pipe securing screws (A) and hose securing clip (B) - 1.6 EFI engine
4 Disconnect the throttle cable from the throttle valve linkage, then unbolt the cable bracket from the housing.
5 Disconnect the throttle position sensor wiring plug.
6 Unscrew the four securing nuts, and withdraw the throttle housing from the inlet manifold. Recover the gasket.
Refitting
7 Refitting is a reversal of removal, but use a new gasket between the throttle housing and the inlet manifold.
See also:
Gauges
Base instrument cluster shown in standard measure. Metric similar. Optional instrument cluster shown in standard measure. Metric similar. Speedometer: Indicates the current vehicle speed. ...
Seat belt check (Every 6000 miles (10 000 km) or 6 months)
1 Periodically check the belts for fraying or other damage. If evident, renew the belt. 2 If the belts become dirty, wipe them with a damp cloth using a little detergent only. 3 Check the tightnes ...
Disarming the alarm
Disarm and silence the alarm by unlocking the doors with the key and switching the ignition on with a correctly coded key, or unlocking the doors with the remote control. ...