Throttle housing - removal and refitting
Note: A new gasket must be used on refitting.
Removal
1 Disconnect the battery negative lead.
2 Depressurise the fuel system as described in Section 6.
3 Remove the air inlet pipe (see illustration).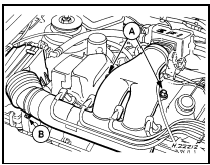 9.3 Air inlet pipe securing screws (A) and hose securing clip (B) - 1.6 EFI engine
4 Disconnect the throttle cable from the throttle valve linkage, then unbolt the cable bracket from the housing.
5 Disconnect the throttle position sensor wiring plug.
6 Unscrew the four securing nuts, and withdraw the throttle housing from the inlet manifold. Recover the gasket.
Refitting
7 Refitting is a reversal of removal, but use a new gasket between the throttle housing and the inlet manifold.
See also:
Headlamps and auxiliary lamps - beam alignment
The headlamps are adjustable individually for both horizontal and vertical alignment from within the engine compartment. The auxiliary lamp adjustment is carried out by slackening the lamp mountin ...
Rear anti-roll bar (Saloon, Hatchback and Estate models) - removal and refitting
Removal 1 Loosen the rear roadwheel nuts, chock the front wheels, jack up the rear of the vehicle and support on axle stands placed under the side members. 2 Prise off the straps which connect th ...
Engine electrical systems
General information and precautions General information The electrical system is of the 12 volt negative earth type, and consists of a 12 volt battery, alternator with integral voltage regulator, ...