Load apportioning valve (P100 models) - adjustment
Models before mid-April 1989 1 The vehicle must be unladen, at normal kerb weight (a full tank of petrol, but no driver or load).
2 With the vehicle standing on its roadwheels, remove the spring clip and clevis pin, and detach the spring from the valve operating lever.
3 Loosen the locknut on the abutment block at the bottom of the spring (see illustration).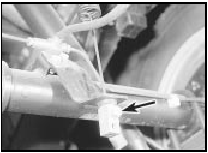 25.3 Loosen the locknut (arrowed) on the abutment block
4 Slide the spring through the grommet in the bracket on the axle, until the correct УXФ dimension is obtained between the centre of the spring eye and the centre of the valve operating lever eye (see illustration).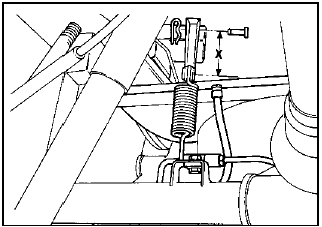 25.4 Load apportioning valve adjustment
X = 77.0 mm (3.0 in) with vehicle unladen at normal kerb weight
5 Hold the spring in position, slide the abutment block against the underside of the grommet, and tighten the locknut.
6 Attach the free end of the spring to the valve operating lever, and refit the clevis pin and spring clip.
Models from mid-April 1989 7 The procedure is as described above, but note that the dimension УXФ has been revised to 92.0 mm (3.6 in) with the vehicle unladen at normal kerb weight.
See also:
Coil - testing, removal and refitting
Testing All models except 1.6 and 1.8 litre CVH (R6A type) 1 The coil is located on the left-hand side of the engine compartment and is retained by a metal strap (see illustration). It is of high ...
Major body damage - repair
Where serious damage has occurred or large areas need renewal due to neglect, it means that completely new sections or panels will need welding in, and this is best left to professionals. If the d ...
Fuel pump - removal and refitting
Caution: Refer to the precautions in Section 1 before proceeding. Mechanical pump Note: A new gasket must be used when refitting the pump. 1 Disconnect the battery negative lead. 2 For improved ...