Load apportioning valve (P100 models) - adjustment
Models before mid-April 1989 1 The vehicle must be unladen, at normal kerb weight (a full tank of petrol, but no driver or load).
2 With the vehicle standing on its roadwheels, remove the spring clip and clevis pin, and detach the spring from the valve operating lever.
3 Loosen the locknut on the abutment block at the bottom of the spring (see illustration).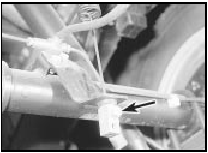 25.3 Loosen the locknut (arrowed) on the abutment block
4 Slide the spring through the grommet in the bracket on the axle, until the correct УXФ dimension is obtained between the centre of the spring eye and the centre of the valve operating lever eye (see illustration).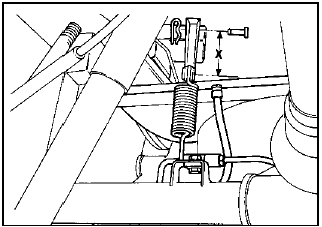 25.4 Load apportioning valve adjustment
X = 77.0 mm (3.0 in) with vehicle unladen at normal kerb weight
5 Hold the spring in position, slide the abutment block against the underside of the grommet, and tighten the locknut.
6 Attach the free end of the spring to the valve operating lever, and refit the clevis pin and spring clip.
Models from mid-April 1989 7 The procedure is as described above, but note that the dimension УXФ has been revised to 92.0 mm (3.6 in) with the vehicle unladen at normal kerb weight.
See also:
Crankshaft rear oil seal - renewal
1 Remove the flywheel/driveplate. 2 Prise out the oil seal. If necessary, drill the outer face of the oil seal and use self-tapping screws and a pair of grips to withdraw the seal (see illustratio ...
Weber 2V carburettor automatic choke unit - removal, checking and refitting
XR3 models Removal 1 Remove the air cleaner (Section 2). 2 Disconnect the electrical lead to the automatic choke. 3 Undo the three choke housing cover retaining screws, withdraw the cover and bi ...
Fuel and exhaust systems - carburettor
General information and precautions General information The fuel system on carburettor models may comprise a fuel tank, a fuel pump, a fuel pressure regulator and/or vapour separator, a downdraug ...