Rear suspension front mounting (Saloon, Hatchback and Estate models) - renewal
1 Chock the front wheels, jack up the rear of the vehicle and support on axle stands placed under the side members.
2 Unscrew and remove the three bolts securing the relevant front guide plate to the underbody and the suspension crossmember.
Where applicable, bend back the lockwasher tab(s) on the larger bolt.
3 Using a length of wood, lever the suspension crossmember downwards a few inches from the underbody, and insert the wood as a wedge.
4 Using a tool similar to the Ford special tool shown (see illustration), or a long bolt with nut, washers and a suitable metal tube, pull the mounting rubber from the crossmember.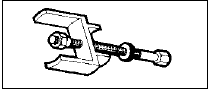 15.4 Ford special tool 15-014 for removing rear suspension front mounting rubber
5 Lubricate the new mounting rubber with soapy water, and use the tool described in the previous paragraph to press the rubber into the crossmember.
6 Further refitting is a reversal of removal.
Where applicable, secure the larger front guide plate bolt by bending up the lockwasher tab(s).
See also:
Engine - complete dismantling
1 The need for dismantling will have been dictated by wear or noise in most cases. Although there is no reason why only partial dismantling cannot be carried out to renew such items as the oil pum ...
Door handle and lock components - removal and refitting
Door exterior handle Removal 1 Remove the door trim panel (Section 11). 2 Peel back the waterproof sheet as necessary to gain access (see illustration). 13.2 Peel back the waterproof sheet for ...
Headlamps and auxiliary lamps - beam alignment
The headlamps are adjustable individually for both horizontal and vertical alignment from within the engine compartment. The auxiliary lamp adjustment is carried out by slackening the lamp mountin ...