Rear suspension front mounting (Saloon, Hatchback and Estate models) - renewal
1 Chock the front wheels, jack up the rear of the vehicle and support on axle stands placed under the side members.
2 Unscrew and remove the three bolts securing the relevant front guide plate to the underbody and the suspension crossmember.
Where applicable, bend back the lockwasher tab(s) on the larger bolt.
3 Using a length of wood, lever the suspension crossmember downwards a few inches from the underbody, and insert the wood as a wedge.
4 Using a tool similar to the Ford special tool shown (see illustration), or a long bolt with nut, washers and a suitable metal tube, pull the mounting rubber from the crossmember.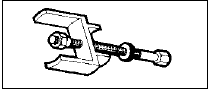 15.4 Ford special tool 15-014 for removing rear suspension front mounting rubber
5 Lubricate the new mounting rubber with soapy water, and use the tool described in the previous paragraph to press the rubber into the crossmember.
6 Further refitting is a reversal of removal.
Where applicable, secure the larger front guide plate bolt by bending up the lockwasher tab(s).
See also:
Seat belt check (Every 6000 miles or 6 months)
1 Periodically check the belts for fraying or other damage. If evident, renew the belt. 2 If the belts become dirty, wipe them with a damp cloth using a little detergent only. 3 Check the tightnes ...
Oil seals - renewal
Camshaft oil seal Note: Thread locking compound will be required to coat the camshaft sprocket bolt on refitting. 1 Disconnect the battery negative lead. 2 Release the timing belt from the camsha ...
Ignition systems
The ignition system is divided into two circuits, low tension (primary) and high tension (secondary). The low tension circuit consists of the battery, ignition switch, primary coil windings and th ...