Power steering gear - removal and refitting
Note: New power steering fluid hose O-rings will be required when refitting.
Removal
1 The procedure is as described for manual steering gear with the following differences (see illustration).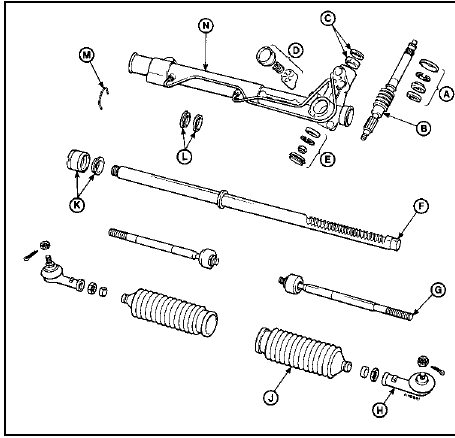 28.1 Power steering gear components
A Pinion locknut assembly B Pinion
C Pinion upper bearing and seal D Slipper assembly
E Pinion lower bearing assembly F Rack
G Tie-rod
H Tie-rod end
J Gaiter
K Rack support bearing and seal L Inner rack seal and support bearing M Rack support bearing locking wire N Steering gear housing
2 Before removing the steering gear from the suspension crossmember, place a suitable container beneath the steering gear. Unscrew the single bolt securing the power steering fluid hoses to the pinion housing. Unscrew the hose unions and drain the power steering fluid. Plug the ends of the hoses and the steering gear apertures, or cover them with masking tape to prevent dirt ingress.
Refitting
3 When refitting the fluid hoses, use new O-rings, and take care not to overtighten the unions. Note that with the unions fully tightened it is still possible to rotate and move the hoses.
4 On completion of refitting, bleed the power steering fluid circuit (Section 34).
See also:
Throttle housing - removal and refitting
Note: During manufacture the throttle plate is adjusted so that it is fractionally open, to avoid the possibility of it jamming shut, and it must not be repositioned. Idle speed adjustment is prov ...
Rear roadspring (Van models) - removal and refitting
Removal 1 To remove the single leaf type rear roadspring from the Van, raise the rear of the vehicle and support it securely under the body members (see "Jacking and Vehicle Support"). Support th ...
Engine mountings - renewal
1 The engine mountings incorporate hydraulic dampers and must be renewed if excessive engine movement is evident. 2 Working in the engine compartment, unscrew the central nuts securing the engine ...