Boot lid lock (Saloon models) - removal and refitting
Removal
1 With the boot lid raised, remove the lock barrel retaining clip.
2 Where applicable, disconnect the operating lever from the central locking solenoid/motor, then withdraw the lock barrel.
3 Remove the three retaining screws from the lock assembly, if necessary loosening the reinforcing plate (see illustration).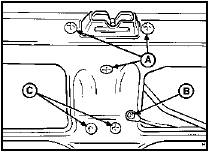 10.3 Boot lid lock - Saloon models
A Lock retaining screws B Earth lead
C Reinforcing plate screws
4 Where applicable, disconnect the battery negative lead, the earth lead from the bootlid and the Уboot lid ajarФ sensor wiring plug.
Unclip the luggage compartment light switch from the lock assembly, where applicable.
5 Withdraw the lock assembly from the boot lid.
Refitting
6 Commence refitting by inserting the lock assembly and loosely refitting the retaining screws.
7 Insert the lock barrel, where applicable reconnecting the operating lever to the solenoid, and refit the retaining clip.
8 Tighten the lock assembly retaining screws, and where applicable reconnect the earth lead and Уboot lid ajarФ sensor wiring plug, and the battery negative lead.
9 If the reinforcing plate was loosened during removal, tighten the retaining screws.
See also:
General description
The independent front suspension is of the MacPherson strut type, incorporating coil springs and integral telescopic shock absorbers. Lateral location of each strut assembly is by a forged or pres ...
Exhaust system - renewal
1 The layout of the exhaust system varies considerably according to model and engine. All except the RS Turbo versions can be renewed in sections; coupling sleeves are supplied, enabling an old se ...
General information and precautions
General information The engine electrical system includes all charging, starting and ignition system components and the engine oil pressure sensor. Because of their engine-related functions, thes ...