Boot lid lock (Saloon models) - removal and refitting
Removal
1 With the boot lid raised, remove the lock barrel retaining clip.
2 Where applicable, disconnect the operating lever from the central locking solenoid/motor, then withdraw the lock barrel.
3 Remove the three retaining screws from the lock assembly, if necessary loosening the reinforcing plate (see illustration).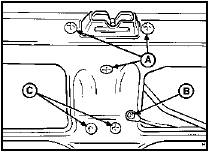 10.3 Boot lid lock - Saloon models
A Lock retaining screws B Earth lead
C Reinforcing plate screws
4 Where applicable, disconnect the battery negative lead, the earth lead from the bootlid and the "boot lid ajar" sensor wiring plug.
Unclip the luggage compartment light switch from the lock assembly, where applicable.
5 Withdraw the lock assembly from the boot lid.
Refitting
6 Commence refitting by inserting the lock assembly and loosely refitting the retaining screws.
7 Insert the lock barrel, where applicable reconnecting the operating lever to the solenoid, and refit the retaining clip.
8 Tighten the lock assembly retaining screws, and where applicable reconnect the earth lead and "boot lid ajar" sensor wiring plug, and the battery negative lead.
9 If the reinforcing plate was loosened during removal, tighten the retaining screws.
See also:
Throttle cable - adjustment, removal and refitting
Adjustment 1 Disconnect the battery earth lead. 2 On manual transmission models remove the air cleaner unit, as given in Section 2. 3 Get an assistant to sit in the driving seat and fully depress ...
General information
All models utilise a light alloy inlet manifold which on carburettor models is coolant heated to improve the atomisation of the fuel/air mixture. The exhaust manifold is of cast iron construction ...
Battery
Your vehicle is equipped with a Motorcraft maintenance-free battery which normally does not require additional water during its life of service. However, for severe usage or in high temperature ...