Boot lid lock (Saloon models) - removal and refitting
Removal
1 With the boot lid raised, remove the lock barrel retaining clip.
2 Where applicable, disconnect the operating lever from the central locking solenoid/motor, then withdraw the lock barrel.
3 Remove the three retaining screws from the lock assembly, if necessary loosening the reinforcing plate (see illustration).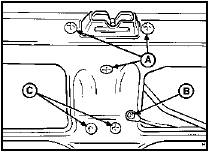 10.3 Boot lid lock - Saloon models
A Lock retaining screws B Earth lead
C Reinforcing plate screws
4 Where applicable, disconnect the battery negative lead, the earth lead from the bootlid and the "boot lid ajar" sensor wiring plug.
Unclip the luggage compartment light switch from the lock assembly, where applicable.
5 Withdraw the lock assembly from the boot lid.
Refitting
6 Commence refitting by inserting the lock assembly and loosely refitting the retaining screws.
7 Insert the lock barrel, where applicable reconnecting the operating lever to the solenoid, and refit the retaining clip.
8 Tighten the lock assembly retaining screws, and where applicable reconnect the earth lead and "boot lid ajar" sensor wiring plug, and the battery negative lead.
9 If the reinforcing plate was loosened during removal, tighten the retaining screws.
See also:
Brake fluid renewal (Every 36 000 miles or 3 years)
Warning: Brake hydraulic fluid can harm your eyes and damage painted surfaces, so use extreme caution when handling and pouring it. Do not use fluid that has been standing open for some time, as ...
Temperature gauge sender removal and refitting
Removal 1 On SOHC models, the temperature gauge sender is located on the front left-hand side of the cylinder head, just in front of the inlet manifold. On CVH models, the sender is located on th ...
Examination and renovation
Crankshaft, bearings, cylinder bores and pistons 1 Refer to Section 13 in Part A of this Chapter. The information applies equally to the CVH engine, except that standard sized crankshafts are unm ...