Crankcase emission control filter renewal - CVH engines (Every 24 000 miles or 2 Years)
Carburettor and Central Fuel Injection (CFI) engines
1 Where fitted, the crankcase ventilation filter is located in the base of the air cleaner.
2 The filter can be renewed by pulling it out of the air cleaner after disconnecting the hoses (see illustration).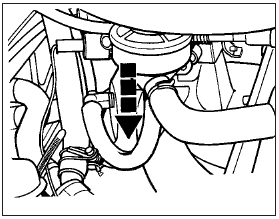 35.2 Crankcase ventilation filter renewal on CVH engines with carburettor
3 Ensure that the sealing grommet is in position in the air cleaner before pushing a new filter into place.
Bosch K-Jetronic and KE-Jetronic fuel injection engines
4 The filter is located on the right-hand side of the engine and can be removed after disconnecting the hoses (see illustration). On early versions, detach the filter from its support bracket.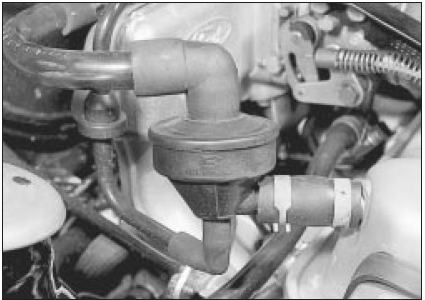 35.4 Crankcase ventilation filter location on KE-Jetronic fuel injection engines
5 Refitting is a reversal of removal, ensuring that the hoses are correctly reconnected.
Electronic Fuel Injection (EFI) engines
6 The filter is located in the hose run to the air cleaner. Note the locations of the hoses to ensure correct reconnection.
See also:
Maintenance - bodywork, underside and fittings
The general condition of a vehicle's bodywork is the one thing that significantly affects its value. Maintenance is easy but needs to be regular. Neglect, particularly after minor damage, can lead ...
Cooling, heating and air conditioning systems
General information and precautions General information The cooling system is of pressurised type, and consists of a front mounted radiator, coolant pump, cooling fan, wax type thermostat, and an ...
Starter motor - testing in the vehicle
1 If the starter motor fails to operate first check the condition of the battery. 2 Check the security and condition of all relevant wiring. Solenoid check 3 Disconnect the battery negative lead ...