Crankcase emission control filter renewal - CVH engines (Every 24 000 miles or 2 Years)
Carburettor and Central Fuel Injection (CFI) engines
1 Where fitted, the crankcase ventilation filter is located in the base of the air cleaner.
2 The filter can be renewed by pulling it out of the air cleaner after disconnecting the hoses (see illustration).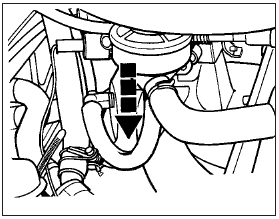 35.2 Crankcase ventilation filter renewal on CVH engines with carburettor
3 Ensure that the sealing grommet is in position in the air cleaner before pushing a new filter into place.
Bosch K-Jetronic and KE-Jetronic fuel injection engines
4 The filter is located on the right-hand side of the engine and can be removed after disconnecting the hoses (see illustration). On early versions, detach the filter from its support bracket.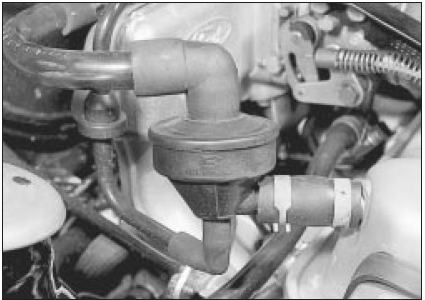 35.4 Crankcase ventilation filter location on KE-Jetronic fuel injection engines
5 Refitting is a reversal of removal, ensuring that the hoses are correctly reconnected.
Electronic Fuel Injection (EFI) engines
6 The filter is located in the hose run to the air cleaner. Note the locations of the hoses to ensure correct reconnection.
See also:
Type approvals
FCC/INDUSTRY CANADA NOTICE This device complies with Part 15 of the FCC Rules. Operation is subject to the following two conditions: (1) this device may not cause harmful interference, and (2) t ...
Driveshaft check (Every 12 000 miles (20 000 km) or 12 months)
1 Position the vehicle over a pit, or raise it at front and rear on ramps or axle stands (see "Jacking and vehicle support"). 2 Examine the driveshaft joint rubber gaiters. Flex the gaiters by han ...
Using snow chains
WARNINGS: Do not exceed 50 km/h (30 mph). Do not use snow chains on snow-free roads. Only fit snow chains to specified tyres. See Technical specifications. CAUTION: If your vehicle is fitted ...