Crankcase emission control filter renewal - CVH engines (Every 24 000 miles or 2 Years)
Carburettor and Central Fuel Injection (CFI) engines
1 Where fitted, the crankcase ventilation filter is located in the base of the air cleaner.
2 The filter can be renewed by pulling it out of the air cleaner after disconnecting the hoses (see illustration).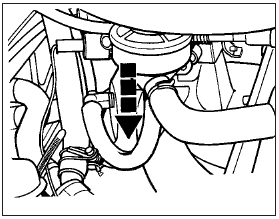 35.2 Crankcase ventilation filter renewal on CVH engines with carburettor
3 Ensure that the sealing grommet is in position in the air cleaner before pushing a new filter into place.
Bosch K-Jetronic and KE-Jetronic fuel injection engines
4 The filter is located on the right-hand side of the engine and can be removed after disconnecting the hoses (see illustration). On early versions, detach the filter from its support bracket.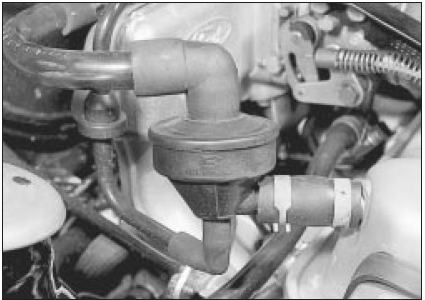 35.4 Crankcase ventilation filter location on KE-Jetronic fuel injection engines
5 Refitting is a reversal of removal, ensuring that the hoses are correctly reconnected.
Electronic Fuel Injection (EFI) engines
6 The filter is located in the hose run to the air cleaner. Note the locations of the hoses to ensure correct reconnection.
See also:
Rear hub bearings - renewal
1 Raise and support the rear of the vehicle on stands (see "Jacking and Vehicle Support"). Remove the roadwheel and release the handbrake. 2 On fuel-injected models and Van versions undo the reta ...
Radio aerial (exteriormounted) - removal and refitting
1 On models fitted with an electric aerial, disconnect the battery negative lead. Saloon and Estate models 2 Remove the right-hand side trim panel from the luggage compartment. 3 Working outside ...
Replacing headlamp bulbs
1. Make sure the headlamp control is in the off position. 2. Open the hood. 3. Reach over the front bolster. 4. Remove the bulb by turning it counterclockwise and then pulling it straight out. ...