Throttle Position Sensor (TPS) - removal and refitting
Removal
1 Disconnect the battery negative lead.
2 Unclip and disconnect the sensor wiring plug.
3 Remove the two securing screws, and withdraw the sensor from the throttle valve shaft (see illustration).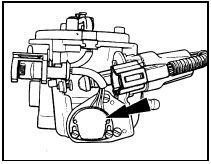 11.3 Throttle position sensor (TPS) location (arrowed) on side of CFI unit
Refitting 4 Refitting is a reversal of removal, but ensure that the sensor actuating arm is correctly located.
See also:
Door - removal and refitting
Front door 1 On models with electric mirrors, electric windows, central-locking, door-mounted speakers, or "door ajar" sensors, remove the trim panel and disconnect the wiring inside the door. Wi ...
Piston/connecting rod assemblies - removal and refitting
Note: A piston ring compressor tool will be required for this operation. Removal 1 Remove the cylinder head and the sump as described in Sections 4 and 5 respectively. Do not remove the oil pick- ...
Pistons and connecting rods - examination and renovation
1.8 litre (R2A type) 1 Examine the pistons for ovality, scoring, and scratches. Check the connecting rods for wear or damage. 2 The gudgeon pins are an interference fit in the connecting rods, an ...