General information
The 1.1 litre, 1.3 litre, 1.4 litre and 1.6 litre CVH (Compound Valve angle, Hemispherical combustion chambers) engines are of four cylinder in-line overhead camshaft type, mounted transversely, together with the transmission, at the front of the car (see illustrations).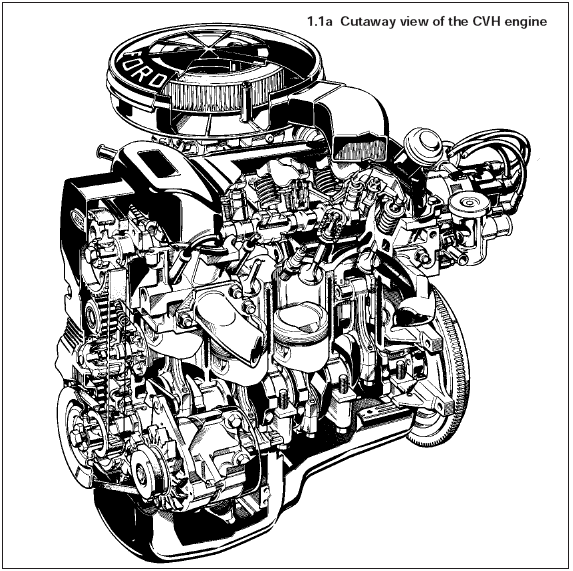 1.1a Cutaway view of the CVH engine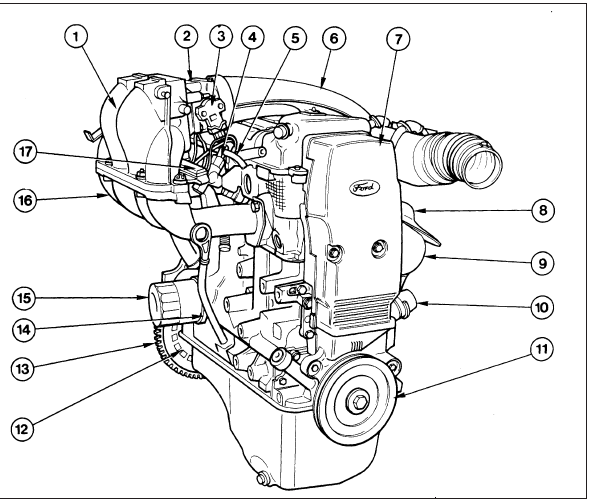 1.1b 1.6 litre EFI engine
1 Inlet manifold (upper) 2 Throttle housing
3 Throttle position sensor 4 Fuel rail
5 Fuel hose
6 Air inlet duct
7 Timing belt cover
8 Exhaust heat shield
9 Exhaust manifold
10 Coolant inlet pipe
11 Crankshaft pulley
12 Flywheel ribs
13 Flywheel
14 Oil cooler
15 Oil filter
16 Inlet manifold (lower) 17 Fuel injection wiring harness
The crankshaft is supported in five main bearings within a cast iron crankcase.
The cylinder head is of light alloy construction, supporting the overhead camshaft in five bearings. Camshaft drive is by a toothed composite rubber belt, driven from a sprocket on the crankshaft.
The distributor (where applicable) is driven from the rear (flywheel) end of the camshaft by means of an offset dog.
The cam followers are of hydraulic type, which eliminates the need for valve clearance adjustment. If the engine has been standing idle for a period of time, or after overhaul, when the engine is started up, valve clatter may be heard. This is a normal condition and will gradually disappear within a few minutes of starting up as the cam followers are pressurised with oil.
The water pump is mounted on the timing belt end of the cylinder block and is driven by the toothed belt.
A gear or rotor type oil pump is mounted on the timing belt end of the cylinder block and is driven by a gear on the front end of the crankshaft.
A full-flow oil filter of throw-away type is located on the side of the crankcase.
An engine oil cooler is located under the oil filter on fuel-injection and automatic transmission models.
See also:
Audio control
Audio control Volume up A Seek up B Volume down C Seek down D Mode E Mode Press and hold the mode button to select the audio source. Press the mode button to: • tune the radio to the next ...
Autolamp control (if equipped)
The autolamp system provides light sensitive automatic on-off control of the exterior lights normally controlled by the headlamp control. The autolamp system is factory programmed to keep the l ...
Rear tie-bar (Saloon and Estate models) - removal and refitting
Removal 1 Before attempting to remove a tie-bar, note the location of all washers and bushes. These control the rear wheel alignment and they must be returned to their original locations. 2 Raise ...