Sump - removal and refitting
Note: New gaskets and sealing strips must be used on refitting.
Removal
1 Disconnect the battery negative lead.
2 Drain the engine oil.
3 Remove the starter motor as described in Chapter 5, Part A.
4 Apply the handbrake, jack up the front of the car and support it on stands (see "Jacking and Vehicle Support").
5 Unbolt and remove the cover plate from the clutch housing (see illustration).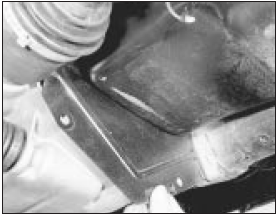 8.5 Remove the clutch housing cover plate
6 Unbolt and remove the engine splash shield at the crankshaft pulley end (see illustration).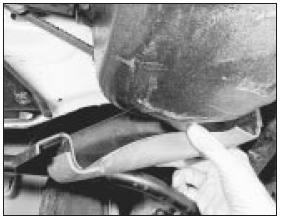 8.6 And the right-hand engine splash shield
7 Unscrew the sump securing bolts progressively and remove them.
8 Remove the sump and peel away the gaskets and sealing strips.
Refitting
9 Make sure that the mating surfaces of the sump and block are clean, then fit new end sealing strips into their grooves and stick new side gaskets into position using thick grease.
The ends of the side gaskets should overlap the seals. On later models a one-piece sump gasket is used. Before fitting, apply sealer to the joints of the cylinder block and rear oil seal carrier, and cylinder block and oil pump housing (four locations). Without applying any further sealer, locate the gasket into the grooves of the oil seal carrier and oil pump housing (see illustrations). To retain the gasket insert two or three studs into the cylinder block if necessary and remove them once the sump is in place.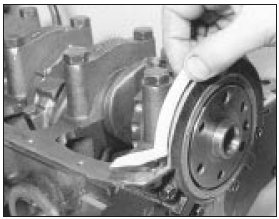 8.9a Fitting the sump sealing strips . . .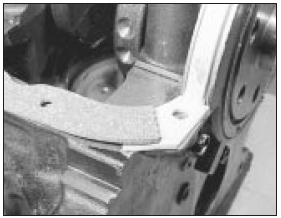 8.9b . . . followed by the side gaskets with their ends overlapped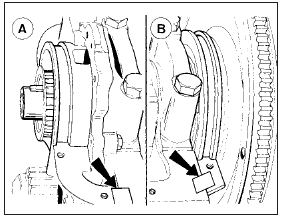 8.9c Apply sealer to the areas shown when fitting a one piece sump gasket
A Oil pump housing-to-block joint B Rear oil seal carrier-to-block joint
10 Offer up the sump, taking care not to displace the gaskets and insert the securing bolts. Tighten the bolts in two stages to the final torque given in the Specifications.
11 Refit the cover plate to the clutch housing and refit the engine splash shield.
12 Refit the starter motor.
13 Fill the engine with oil and reconnect the battery.
See also:
Fuel pump - removal and refitting
The fuel pump is integral with the fuel level sender unit in the fuel tank. Removal and refitting are as described in Part C of this Chapter for models with the CFI system. ...
Ford VV carburettor manual choke unit - removal, checking and refitting
Note: A new gasket will be required on refitting. Removal 1 Disconnect the battery negative lead. 2 Remove the air cleaner (Section 2). 3 Slacken the choke cable clamp bolt at the choke lever, d ...
Sump - removal and refitting
Note: New gaskets and sealing strips will be required for refitting, and sealing compound will be required to coat the gasket faces. Removal 1 If the engine is in the vehicle, proceed as follows, ...