Heater - removal and refitting
Removal
1 Disconnect the battery negative lead.
2 Refer to Chapter 11 and remove the centre console.
3 Working within the engine compartment, disconnect the coolant hoses from the heater pipe stubs at the rear bulkhead (see illustration). Raise the ends of the hoses to minimise loss of coolant.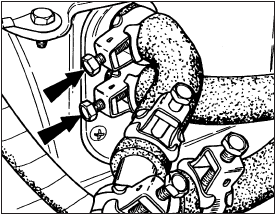 11.3 Coolant hose connections at heater pipe stubs
4 The heater matrix will still contain coolant and should be drained by blowing into the upper heater pipe stub and catching the coolant which will be ejected from the lower one.
5 Remove the cover plate and gasket from around the heater pipe stubs. This is held to the bulkhead by two self-tapping screws.
6 Working inside the vehicle, remove the dash lower trim panels from both sides. The panels are held in position by clips and tags.
7 Pull the air distribution ducts from the heater casing and swivel them as necessary to clear the control cables.
8 Disconnect the control cables from the heater casing and the flap arms.
9 Remove the two heater mounting nuts and lift the heater assembly out of the vehicle, taking care not to spill any remaining coolant on the carpet (see illustration).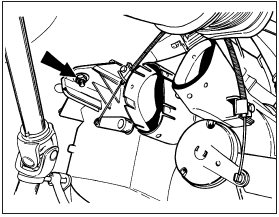 11.9 Heater mounting nut location - lefthand side
Refitting 10 Refitting is a reversal of removal. Check that the heater casing seal to the cowl is in good order, otherwise renew it. Adjust the heater controls on completion as described in Section 9.
11 Top-up the cooling system (see "Weekly checks") and reconnect the battery.
See also:
Front anti-roll bar - removal and refitting
Removal 1 To improve access, raise the front of the vehicle on ramps. Do not jack the vehicle up at this stage. Apply the handbrake. 2 Where applicable bend back the locktabs, then unscrew the tw ...
Exhaust manifold - removal and refitting
Note: A new gasket will be required on refitting. Removal 1 Disconnect the battery negative lead. 2 On carburettor and CFI engine models remove the air cleaner as described in the appropriate Pa ...
Accessories
FORD ACCESSORIES FOR YOUR VEHICLE A wide selection of genuine Ford accessories are available for your vehicle through your local authorized Ford, Lincoln, Mercury or Ford of Canada dealer. These qu ...