Heater matrix - removal and refitting
Removal
1 With the heater removed from the vehicle as previously described, extract the two securing screws and slide the matrix out of the heater casing.
2 If further dismantling is necessary, cut the casing seal at the casing joint, prise off any securing clips and separate the two halves of the casing.
3 Remove the air flap valves. It should be noted that the lever for the air distribution valve can only be removed when the mark on the lever is in alignment with the one on the gearwheel (see illustration).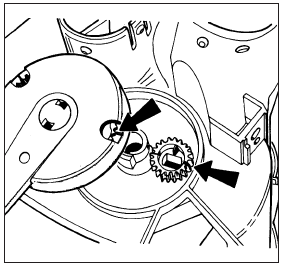 12.3 Air distribution valve lever and gear marks (arrowed)
4 If the heater matrix is leaking, it is best to obtain a new or reconditioned unit. Home repairs are seldom successful. A blocked matrix can sometimes be cleared using a cold water hose and reverse flushing, but avoid the use of searching chemical cleaners.
Refitting
5 Reassembly is a reversal of removal. Take care not to damage the fins or tubes of the matrix when inserting it into the casing. Refit the heater with reference to Section 11.
See also:
OHV and HCS engines
The 1.1 litre and 1.3 litre OHV engines are of four-cylinder, in-line overhead valve type (hence OHV), mounted transversely together with the transmission, at the front of the car. The crankshaft ...
Hydraulic system - bleeding (conventional braking system)
Note: On cars equipped with the Anti-lock Braking System, refer to Section 23. Warning: Hydraulic fluid is poisonous; wash off immediately and thoroughly in the case of skin contact, and seek imm ...
Steering gear - removal, overhaul and refitting
Removal Note: New tie-rod balljoint split-pins must be used on refitting. 1 Set the front roadwheels in the straightahead position. 2 Raise the front of the vehicle and fit stands (see "Jacking ...