Fuel pump - cleaning
Note: Refer to the warning at the end of Section 1 before proceeding.
1 On certain early models the fuel pump has a detachable cover allowing access to the internal filter for cleaning. If this type of pump is fitted (identified by a raised cover secured with a screw) the filter can be cleaned as follows.
2 Place a piece of rag around the pump body to catch the fuel which will drain out when the cover is removed.
3 Unscrew and remove the single cover screw and lift off the cover (see illustration).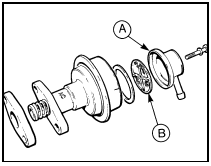 4.3 CVH engine fuel pump filter components
A Pump cover B Filter
4 Take out the rubber sealing ring and the filter screen from inside the cover.
5 Clean the screen by brushing it in clean fuel, then fit it into the cover, noting the projections on some screens which centralise it.
6 Fit the sealing ring. If it is not in good order, renew it.
7 Locate the cover on the pump body. On some pumps, the cover is correctly installed when the notch in the cover engages in the groove in the pump body.
8 Screw in the retaining screw, but do not overtighten it provided it is making a good seal.
See also:
Power steering gear - removal and refitting
Note: New power steering fluid hose O-rings will be required when refitting. Removal 1 The procedure is as described for manual steering gear with the following differences (see illustration). ...
Rear brake shoes - renewal
Warning: Brake shoes must be renewed on both rear wheels at the same time - never renew the shoes on only one wheel, as uneven braking may result. Also, the dust created by wear of the shoes may ...
Emission control system
Your vehicle is equipped with various emission control components and a catalytic converter which will enable your vehicle to comply with applicable exhaust emission standards. To make sure that the ...