Fuel pump - cleaning
Note: Refer to the warning at the end of Section 1 before proceeding.
1 On certain early models the fuel pump has a detachable cover allowing access to the internal filter for cleaning. If this type of pump is fitted (identified by a raised cover secured with a screw) the filter can be cleaned as follows.
2 Place a piece of rag around the pump body to catch the fuel which will drain out when the cover is removed.
3 Unscrew and remove the single cover screw and lift off the cover (see illustration).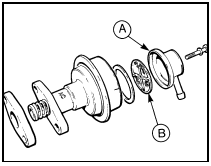 4.3 CVH engine fuel pump filter components
A Pump cover B Filter
4 Take out the rubber sealing ring and the filter screen from inside the cover.
5 Clean the screen by brushing it in clean fuel, then fit it into the cover, noting the projections on some screens which centralise it.
6 Fit the sealing ring. If it is not in good order, renew it.
7 Locate the cover on the pump body. On some pumps, the cover is correctly installed when the notch in the cover engages in the groove in the pump body.
8 Screw in the retaining screw, but do not overtighten it provided it is making a good seal.
See also:
Fuel injector - removal and refitting
Note: Refer to the precautions at the end of Section 1 before proceeding. New injector seals will be required on refitting. Removal 1 Disconnect the battery negative lead. 2 Remove the air cleane ...
Battery
Your vehicle is equipped with a Motorcraft maintenance-free battery which normally does not require additional water during its life of service. However, for severe usage or in high temperature ...
Engine idle speed check (Every 6000 miles (10 000 km) or 6 months)
Caution: Refer to the precautions in Section 1, Chapter 4, Part A or B (as applicable), before proceeding. Before carrying out any carburettor adjustments, ensure that the ignition timing and sp ...