Charge air temperature sensor - removal and refitting
Removal
1 The charge air temperature sensor is only used on KE-Jetronic systems and is located in the air inlet duct (see illustration).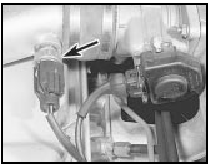 17.1 Charge air temperature sensor location (arrowed)
2 Disconnect the battery negative lead.
3 Disconnect the wiring multi-plug and unscrew the sensor from its location.
Refitting
4 Refitting is the reversal of removal.