Heater unit - overhaul
1 With the heater unit removed from the vehicle, remove the two securing screws and withdraw the heater matrix from the casing (see illustrations).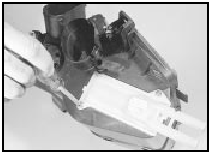 19.1a Remove the securing screws . . .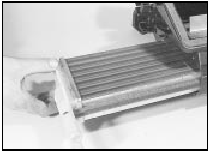 19.1b . . . and withdraw the heater matrix
2 Cut the heater casing gasket in line with the casing joint, then use two suitable screwdrivers to prise off the retaining clips and separate the casing halves. Withdraw the lower part of the casing to the side.
3 Remove the air flap valves, then press the control levers from the casing. Note that the "up/down" control lever can only be removed when the marks are aligned as shown (see illustration).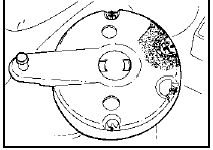 19.3 Heater "up/down" control lever must be aligned as shown before removal Note that the cross marks are for right-hand drive vehicles
4 Clean all components and hose through the matrix to remove any debris. If necessary use a chemical cleaner to clear the inner passage of the matrix. Renew the components as necessary.
5 Reassembly is a reversal of dismantling.
See also:
Routine maintenance and servicing
This Chapter is designed to help the home mechanic maintain his/her vehicle for safety, economy, long life and peak performance. The Chapter contains a master maintenance schedule, followed by Sect ...
General information and precautions
General information The system is best described by dividing it into four separate sub-systems: air, fuel, engine management (EEC IV system), and ignition. Air system The air system consists of ...
Oil pump - removal and refitting
Note: A new gasket must be used on refitting. Removal 1 The oil pump is externally mounted on the rear facing side of the crankcase. 2 Using a strap wrench or similar, unscrew and remove the oil ...