Waste gate solenoid control valve - removal and refitting
Removal
1 The solenoid control valve is mounted on a bracket located underneath the ignition distributor (see illustration).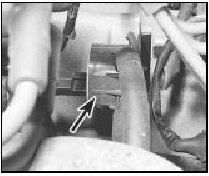 21.1 Waste gate solenoid control valve location (arrowed)
2 Disconnect the battery negative lead.
3 Disconnect the solenoid wiring multi-plug.
4 Identify and mark the hose locations at the solenoid connections, then remove the hoses.
5 Undo the retaining screws and remove the unit from its location.
Refitting
6 Refitting is a reversal of removal.