Fuel pump - removal and refitting
Removal
1 The fuel pump is integral with the fuel level sender unit in the fuel tank (see illustration).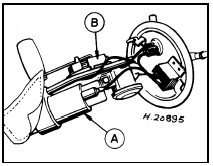 7.1 Integral fuel level sender unit/fuel pump - 1.4 CFI engine
A Fuel pump B Sender unit
2 Chock the front wheels, then jack up the rear of the vehicle and support it securely on axle stands (see "Jacking and Vehicle Support").
3 Disconnect the battery negative lead.
4 Depressurise the fuel system (Section 6).
5 Remove the fuel tank, then proceed as described for fuel level sender unit removal and refitting. This is described as part of the fuel tank removal and refitting procedure in Part A of this Chapter.
Refitting
6 Refitting is a reversal of removal.
See also:
Electronic modules - removal and refitting
Note: Refer to Section 1 for precautions to be observed when working with electronic modules. 1 Disconnect the battery negative lead. All ESC modules except ESC (early "Economy" models) 2 All mo ...
Starter motor - testing in the car
Note: Refer to the precautions given in "Safety first!" and in Section 1 of this Chapter before proceeding. 1 If the starter motor fails to operate when the ignition key is turned to the appropria ...
Engine/automatic transmission assembly - removal and separation
Note: Refer to the warning at the beginning of Section 5 before proceeding. A suitable hoist and lifting tackle will be required for this operation. Any suspected faults in the automatic transmiss ...