Fuel pump - removal and refitting
Removal
1 The fuel pump is integral with the fuel level sender unit in the fuel tank (see illustration).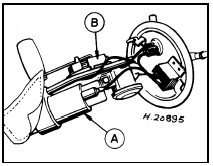 7.1 Integral fuel level sender unit/fuel pump - 1.4 CFI engine
A Fuel pump B Sender unit
2 Chock the front wheels, then jack up the rear of the vehicle and support it securely on axle stands (see "Jacking and Vehicle Support").
3 Disconnect the battery negative lead.
4 Depressurise the fuel system (Section 6).
5 Remove the fuel tank, then proceed as described for fuel level sender unit removal and refitting. This is described as part of the fuel tank removal and refitting procedure in Part A of this Chapter.
Refitting
6 Refitting is a reversal of removal.
See also:
Vehicle Identification Numbers
Modifications are a continuing and unpublicised process in vehicle manufacture, quite apart from major model changes. Spare parts manuals and lists are compiled upon a numerical basis, the individ ...
Cylinder head - removal and refitting (engine removed)
Note: Up to early 1984, splined type cylinder head bolts were used, and from early 1984, size T55 Torx bolts were used. Torx type bolts must always be renewed after slackening. The two types of bo ...
Braking system
General information and precautions General information The braking system is of the dual circuit hydraulic type. The front and rear circuits are operated independently from a tandem master cylin ...