Fuel pump - removal and refitting
Removal
1 The fuel pump is integral with the fuel level sender unit in the fuel tank (see illustration).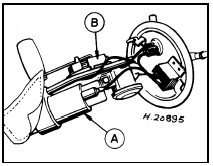 7.1 Integral fuel level sender unit/fuel pump - 1.4 CFI engine
A Fuel pump B Sender unit
2 Chock the front wheels, then jack up the rear of the vehicle and support it securely on axle stands (see "Jacking and Vehicle Support").
3 Disconnect the battery negative lead.
4 Depressurise the fuel system (Section 6).
5 Remove the fuel tank, then proceed as described for fuel level sender unit removal and refitting. This is described as part of the fuel tank removal and refitting procedure in Part A of this Chapter.
Refitting
6 Refitting is a reversal of removal.
See also:
Intercooler - removal and refitting
1985 models Removal 1 Disconnect the battery negative lead. 2 Remove the air cleaner as described in Section 2. 3 Remove the intercooler upper and lower air hoses (see illustration). 22.3 Int ...
General information
1.6 litre engine The 1.6 litre CVH engine was introduced in September 1991, to replace the 1.6 litre SOHC engine used previously in the Sierra range. The engine is broadly similar to the 1.8 litr ...
Washer nozzles - removal and refitting
Windscreen and rear window washers 1 To remove a nozzle, carefully prise it from its location using a thin-bladed screwdriver. Disconnect the washer hose and withdraw the nozzle. 2 To refit, rec ...