Rear anti-roll bar (Saloon and Estate models) - removal and refitting
Removal
1 Slacken the left-hand roadwheel bolts, raise and support the rear of the car on stands (see "Jacking and Vehicle Support"). Remove the roadwheel.
2 Lever the shackles from the right and lefthand suspension lower arms (see illustration).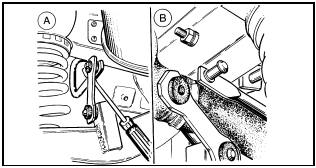 18.2 Disconnecting the rear anti-roll bar shackles - Saloon and Estate models
A Left-hand side B Right-hand side
3 Unbolt the anti-roll bar from the underbody, carefully noting the relative fixing locations.
4 Release the fuel lines from their securing clips. Support the fuel tank and remove the three tank mounting bolts. Carefully lower the tank on its support (see illustration).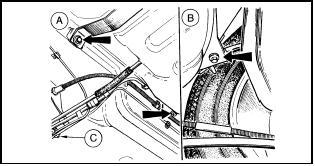 18.4 Fuel tank attachment details
A Mounting bolts (arrowed) B Mounting bolt (arrowed) C Fuel line clips
5 Withdraw the anti-roll bar from the left-hand side of the vehicle.
6 To remove the rubber bushes from the antiroll bar simply prise open the bush retainers with a screwdriver. Press the retainers together so that the fixing holes are in line when refitting.
Refitting
7 Refitting is a reversal of removal. The fuel tank must be bolted in position before securing the anti-roll bar. Ensure that the underbody fixings are refitted in their original locations.
8 Lubricate the shackle bushes with soap solution before reconnecting them to the lower arms.
See also:
Heater unit - removal and refitting
Removal 1 Disconnect the battery negative lead. 2 If the coolant is still hot, release the pressure in the system by slowly unscrewing the expansion tank cap. Place a thick rag over the cap to pr ...
Braking system
General information and precautions General information The braking system is of the dual circuit hydraulic type. The front and rear circuits are operated independently from a tandem master cylin ...
Engine oil and filter renewal (Every 6000 miles or 6 months)
1 Frequent oil and filter changes are the most important preventative maintenance procedures that can be undertaken by the DIY owner. As engine oil ages, it becomes diluted and contaminated, which ...