Rear anti-roll bar (Saloon and Estate models) - removal and refitting
Removal
1 Slacken the left-hand roadwheel bolts, raise and support the rear of the car on stands (see "Jacking and Vehicle Support"). Remove the roadwheel.
2 Lever the shackles from the right and lefthand suspension lower arms (see illustration).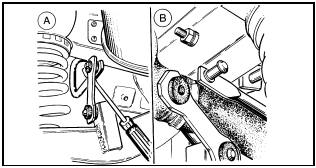 18.2 Disconnecting the rear anti-roll bar shackles - Saloon and Estate models
A Left-hand side B Right-hand side
3 Unbolt the anti-roll bar from the underbody, carefully noting the relative fixing locations.
4 Release the fuel lines from their securing clips. Support the fuel tank and remove the three tank mounting bolts. Carefully lower the tank on its support (see illustration).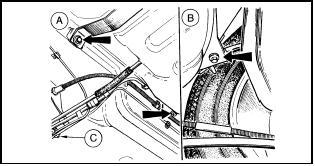 18.4 Fuel tank attachment details
A Mounting bolts (arrowed) B Mounting bolt (arrowed) C Fuel line clips
5 Withdraw the anti-roll bar from the left-hand side of the vehicle.
6 To remove the rubber bushes from the antiroll bar simply prise open the bush retainers with a screwdriver. Press the retainers together so that the fixing holes are in line when refitting.
Refitting
7 Refitting is a reversal of removal. The fuel tank must be bolted in position before securing the anti-roll bar. Ensure that the underbody fixings are refitted in their original locations.
8 Lubricate the shackle bushes with soap solution before reconnecting them to the lower arms.
See also:
Battery
Your vehicle is equipped with a Motorcraft maintenance-free battery which normally does not require additional water during its life of service. However, for severe usage or in high temperature ...
Rear wheel cylinder - removal, overhaul and refitting
Note: Before starting work, refer to the warning at the beginning of Section 2 concerning the dangers of asbestos dust, and to the warning at the beginning of Section 3 concerning the dangers of h ...
Door window - removal and refitting
Front door 1 Remove the door inner trim panel. 2 Where necessary for access, peel back the waterproof plastic sheet from the door. 3 Remove the door mirror. 4 Remove the window channel extension ...