Rear anti-roll bar (Saloon and Estate models) - removal and refitting
Removal
1 Slacken the left-hand roadwheel bolts, raise and support the rear of the car on stands (see "Jacking and Vehicle Support"). Remove the roadwheel.
2 Lever the shackles from the right and lefthand suspension lower arms (see illustration).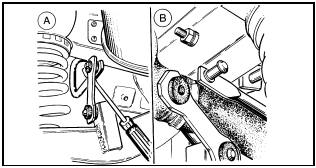 18.2 Disconnecting the rear anti-roll bar shackles - Saloon and Estate models
A Left-hand side B Right-hand side
3 Unbolt the anti-roll bar from the underbody, carefully noting the relative fixing locations.
4 Release the fuel lines from their securing clips. Support the fuel tank and remove the three tank mounting bolts. Carefully lower the tank on its support (see illustration).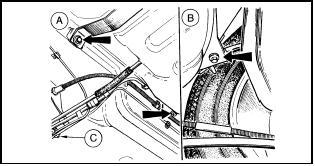 18.4 Fuel tank attachment details
A Mounting bolts (arrowed) B Mounting bolt (arrowed) C Fuel line clips
5 Withdraw the anti-roll bar from the left-hand side of the vehicle.
6 To remove the rubber bushes from the antiroll bar simply prise open the bush retainers with a screwdriver. Press the retainers together so that the fixing holes are in line when refitting.
Refitting
7 Refitting is a reversal of removal. The fuel tank must be bolted in position before securing the anti-roll bar. Ensure that the underbody fixings are refitted in their original locations.
8 Lubricate the shackle bushes with soap solution before reconnecting them to the lower arms.
See also:
Throttle cable - adjustment, removal and refitting
Adjustment The procedure is the same as described in Part A of this Chapter for carburettor engines, except that the cable adjuster is situated in a bracket alongside the throttle housing. Remova ...
Windscreen/tailgate wiper blades and arms - removal and refitting
Removal 1 Pull the wiper arm away from the glass until the arm locks. 2 Depress the small clip on the blade and slide the blade out of the hooked part of the arm (see illustration). 17.2 Disco ...
Fuel pump - testing
1 If the fuel pump is functioning, it should be possible to hear it "buzzing" by listening under the rear of the vehicle when the ignition is switched on. Unless the engine is started, the fuel pu ...