Radiator grille - removal and refitting
Pre-1988 models Removal
1 The grille is held in position by four spring clips (see illustration).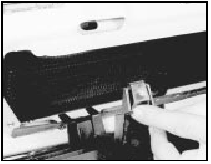 10.1 Radiator grille spring clip - pre-1988 models
2 Once these clips are released, the grille can be removed from the body panel.
Refitting
3 Refit by reattaching the spring clips.
1988 models onwards
4 The radiator grille is integral with the bumper moulding, and is removed with the bumper.
See also:
Boot lid (Saloon models) - removal and refitting
Removal 1 Open the boot lid, and place protective covers (old rags or cardboard) beneath the corners of the lid, and over the rear wings to prevent damage to the paintwork. 2 Where applicable, di ...
Crankshaft and main bearings - removal and refitting
1.8 litre (R2A type) Removal 1 With the engine removed from the vehicle, remove the timing belt, crankshaft sprocket and thrustwasher. 2 Remove the pistons and connecting rods. If no work is to ...
Steering column - removal and refitting
Removal 1 Set the front wheels in the straight-ahead position. 2 Disconnect the battery negative lead. 3 Remove the driver's side lower facia trim panels. 4 Remove the screws and withdraw the s ...