Radiator grille - removal and refitting
Pre-1988 models Removal
1 The grille is held in position by four spring clips (see illustration).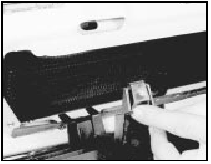 10.1 Radiator grille spring clip - pre-1988 models
2 Once these clips are released, the grille can be removed from the body panel.
Refitting
3 Refit by reattaching the spring clips.
1988 models onwards
4 The radiator grille is integral with the bumper moulding, and is removed with the bumper.