Tailgate/boot lid lock and cylinder - removal and refitting
Removal
1 Remove the trim panel as described in Section 32.
2 Extract the lock cylinder retaining clip, disconnect the control rods and remove the cylinder.
3 Undo the three screws and detach the lock assembly (see illustration).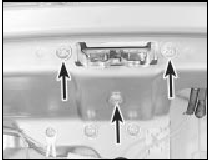 16.3 Tailgate lock retaining screws (arrowed)
Refitting 4 Refitting is a reversal of removal
See also:
Front hub carrier - removal and refitting
Note: A balljoint separator tool will be required for this operation. Removal 1 Loosen the relevant front roadwheel nuts, apply the handbrake, jack up the front of the vehicle and support on axle ...
Throttle body - removal and refitting
Note: A tachometer and an exhaust gas analyser will be required to check the idle mixture on completion. A new gasket must be used when refitting the throttle body. 2.0 litre SOHC models 1 Discon ...
Cylinder head - removal and refitting (engine removed)
Note: New cylinder head bolts, a new cylinder head gasket, a new timing chain tensioner plunger assembly, a new upper timing chain cover gasket, and a new camshaft cover gasket and reinforcing sle ...