Sunroof components - removal, refitting and adjustment
Sunroof panel Removal
1 To remove this type of glass panel, pull the sun blind into the open position and have the sliding roof closed.
2 Wind the sliding roof handle in an anticlockwise direction for one complete turn.
3 Remove the three screws and clips which connect the lower frame and glass.
4 Turn the handle to close the sliding roof and remove the three screws from each side which hold the glass to the sliding gear.
5 Remove the glass panel by lifting it from the outside of the vehicle.
Refitting
6 To refit the panel, have the roof closed, locate the glass and secure with the three screws on each side. Once the screws are secure give the handle one complete turn in a clockwise direction.
7 Set the glass to align with the roof panel and locate the lower frame to glass brackets.
Insert the clips through the brackets.
8 Insert the retaining screws in the sequence shown (see illustration).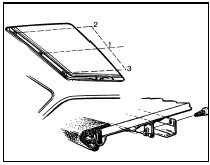 21.8 Fixing sequence for sunroof panel retaining screws
Adjustment 9 The sunroof panel can be adjusted within its aperture and for flush fitting with the roof panel in the following way.
10 To correct the panel-to-aperture gap, bend the weatherstrip flange as necessary.
11 To adjust the panel height at its front edge, release the corner screws, raise or lower the panel as necessary and retighten the screws.
12 To adjust the panel height at its rear edge, release the two screws at each side on the link assemblies and push the links up or down within the limits of the elongated screw holes.
Retighten the screws when alignment is correct.
Sunroof sliding gear
Removal
13 Remove the glass panel as described previously in this Section.
14 Turn the sliding roof regulator handle clockwise to the fully closed position. Extract the three screws and remove the regulator handle and the handle cup.
15 Extract the four screws from each side which hold the sliding gear to the roof (see illustration). Lift up the front of the gear and withdraw it from the front of the sliding roof aperture.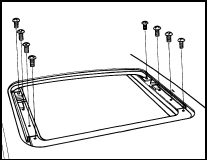 21.15 Sunroof sliding gear to roof screws
Refitting 16 Refitting is a reversal of removal, but if necessary adjust the sunroof panel as described previously in this Section.
See also:
Electronic Fuel Injection (EFI) system
From the 1990 model year, an Electronic Fuel Injection (EFI) system controlled by the Electronic Engine Control IV (EEC IV) system, and incorporating an Electronic Distributorless Ignition system ...
General description
The braking system is of the dual circuit hydraulic type with disc brakes at the front and drum brakes at the rear. A diagonally split dual circuit hydraulic system is employed in which each circu ...
Distributor (OHC models) - removal and refitting
Note: During production the engine ignition timing is accurately set using a microwave process, and sealant is applied to the distributor clamp bolt. Removal of the distributor should be avoided e ...