Centre console - removal and refitting
Removal
1 Remove the gear lever knob.
2 Pull the rubber gaiter up the lever and remove it.
3 Undo the four screws and remove the console (see illustrations).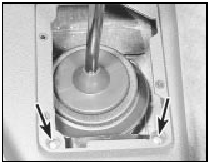 30.3a Centre console lower retaining screws (arrowed)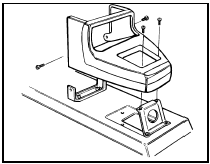 30.3b Centre console fixings
Refitting 4 Refitting is a reversal of removal.
See also:
Electric window components - removal and refitting
1 Disconnect the battery negative lead. Switches 2 Prise the switch from its location using a thin-bladed screwdriver, and disconnect the wiring plug (see illustration). 49.2 Disconnecting the ...
Crankshaft rear oil seal - renewal
Note: New flywheel/driveplate bolts must be used on refitting. 1 Remove the flywheel/driveplate and the engine adapter plate. 2 Extract the seal using an oil seal removal tool if available. It ma ...
Carburettor (Ford VV type) - removal and refitting
Caution: Refer to the precautions in Section 1 before proceeding. Note: A new gasket must be used when refitting the carburettor. A tachometer and an exhaust gas analyser will be required to chec ...