Centre console - removal and refitting
Removal
1 Remove the gear lever knob.
2 Pull the rubber gaiter up the lever and remove it.
3 Undo the four screws and remove the console (see illustrations).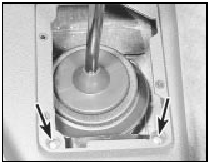 30.3a Centre console lower retaining screws (arrowed)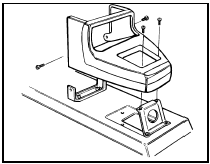 30.3b Centre console fixings
Refitting 4 Refitting is a reversal of removal.
See also:
Jump starting your vehicle
The gases around the battery can explode if exposed to flames, sparks, or lit cigarettes. An explosion could result in injury or vehicle damage. Batteries contain sulfuric acid which can burn ski ...
Speed control (if equipped)
With speed control set, you can maintain a speed of 48 km/h (30 mph) or more without keeping your foot on the pedal. Speed control does not work at speeds below 48 km/h (30 mph). Do not use the spe ...
Front wheel bearings - renewal
1 Remove the hub carrier. 2 Reverse the roadwheel nuts and screw them fully onto the studs to protect the threads, then mount the hub carrier assembly in a vice as shown (see illustration). 6.2 ...