Cylinder head - dismantling and reassembly
Note: A valve spring compressor will be required during this procedure. New valve stem oil seals should be used on reassembly.
Dismantling
1 With the cylinder head removed, remove the camshaft.
2 Using a valve spring compressor, compress one of the valve springs until the split collets can be removed from the groove in the valve stem. Release the compressor and remove the cap and spring, identifying them for location. If the cap is difficult to release, do not continue to tighten the compressor, but gently tap the top of the tool with a hammer.
Always make sure that the compressor is firmly located on the valve head and the cap.
Withdraw the valve (see illustrations).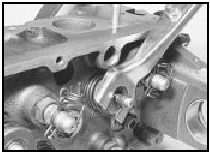 22.2a Compressing a valve spring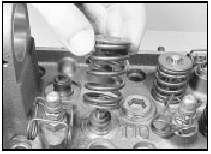 22.2b Removing a valve spring and cap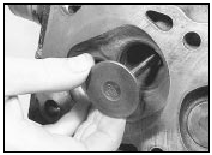 22.2c Removing a valve
3 Repeat the procedure given in paragraph 2 for the remaining valves, keeping all components identified for location so that they can be refitted in their original positions.
4 Prise the valve stem oil seals from the tops of the valve guides (see illustration).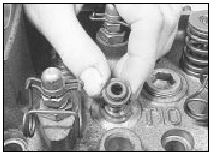 22.4 Removing a valve stem oil seal
5 Unscrew the cam follower ball-pins from the cylinder head, keeping them identified for location.
Reassembly
6 Commence reassembly by refitting the cam follower ball-pins to their original locations, where applicable.
7 Lubricate the valve stems and guides with SAE 80/90 hypoid oil, then insert the valves into their original guides.
8 Wrap a thin layer of adhesive tape over the collet groove of each valve, then smear the new oil seals with a little SAE 80/90 hypoid oil and slide them down the valve stems onto the guides. If necessary use a suitable metal tube to press the oil seals into the guides. Remove the adhesive tape.
9 Working on each valve in turn, fit the valve spring and cap, then compress the spring using the valve spring compressor and fit the split collets to the groove in the valve stem.
Release the compressor and tap the end of the valve stem with a soft-faced mallet to settle the components. If the original components are being refitted, ensure that they are refitted in their original locations.
10 Refit the camshaft.
See also:
Starter motor - removal and refitting
Removal 1 Apply the handbrake, jack up the front of the vehicle and support on axle stands (see "Jacking and Vehicle Support"). 2 Disconnect the battery negative lead. 3 Working underneath the ve ...
Instrument panel - removal and refitting
Models up to 1992 1 Disconnect the battery negative lead. 2 Remove the securing screws and unclip the lower and upper steering column shrouds. 3 Where applicable, remove the instrument panel illu ...
Radiator - removal, inspection and refitting
All models except RS Turbo Pre-1986 models Removal 1 Drain the cooling system as described in Chapter 1. 2 Disconnect the battery negative terminal. 3 Release the retaining clips and disconnect ...