Oil pump - removal and refitting
Removal
1 Remove the sump.
2 Unscrew the bolt securing the pick-up tube and strainer to the cylinder block (see illustration).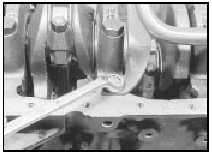 30.2 Unscrewing the oil pick-up tube securing bolt
3 Using a suitable splined socket, unscrew the two securing bolts and withdraw the oil pump and strainer (see illustration).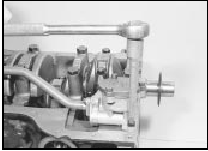 30.3 Unscrewing an oil pump securing bolt
4 If desired, the hexagon-shaped driveshaft can be withdrawn, but note which way round it is fitted (see illustration).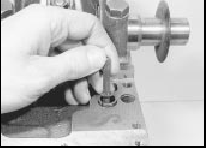 30.4 Withdrawing the oil pump driveshaft
The driveshaft
engages with the lower end of the distributor driveshaft.
5 Thoroughly clean the mating faces of the oil pump and cylinder block.
Refitting
6 Commence refitting by inserting the oil pump driveshaft into the cylinder block in its previously noted position.
7 Prime the pump by injecting oil into it and turning it by hand.
8 Fit the pump, insert the securing bolts, and tighten them to the specified torque.
9 Fit the pick-up tube securing bolt and tighten it.
10 Refit the sump.
See also:
Wash/wipe system components - removal and refitting
Windscreen washer pump Engine compartment-mounted reservoir Removal 1 Drain the washer fluid container. 2 Disconnect the lead and washer pipe. 3 Ease the top of the washer pump away from the fl ...
Wheel sensor (ABS) - removal and refitting
Note: A new O-ring must be used when refitting a sensor. Front wheel sensor 1 Apply the handbrake, loosen the relevant front roadwheel nuts, then jack up the front of the vehicle and support on a ...
Exhaust manifold - removal and refitting
2.0 litre SOHC models 1 Refer to Chapter 4 Part A, Section 26, but note the following points. 2 Ignore the references to removal and refitting of the air cleaner and hot air pick-up pipe, and not ...