Oil pump - dismantling, inspection and reassembly
Dismantling
1 The oil pump can be dismantled for cleaning, but if any of the components are worn, the pump must be renewed as an assembly.
2 To dismantle the pump, proceed as follows.
3 Unscrew the two securing bolts, and remove the pump cover (see illustration).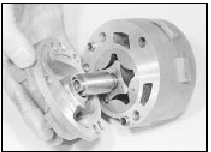 27.3 Removing the oil pump cover
4 Lift the inner and outer rotors from the pump casing.
5 Unscrew the pressure relief valve plug from the pump cover, recover the washer, and withdraw the spring and plunger (see illustrations).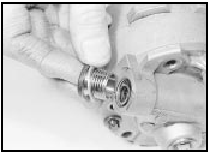 27.5a Unscrew the pressure relief valve plug and washer . . .

27.5b . . . and withdraw the spring and plunger
Inspection
6 Thoroughly clean all components in petrol or paraffin, and wipe dry using a non-fluffy rag.
7 Examine the rotors and the pump casing for signs of excessive wear on the machined surfaces. If wear is evident, the complete pump assembly must be renewed, as spare parts are not available individually.
Reassembly
8 Commence reassembly by lubricating the relief valve plunger. Fit the plunger and the spring, and screw the plug into place, ensuring that the washer is in place under the plug.
9 Lubricate the rotors, and fit them to the pump casing with the punch marks facing the pump cover (see illustration).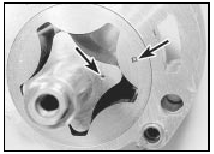 27.9 The punch marks (arrowed) on the oil pump rotors must face the pump cover
10 Refit the pump cover and tighten the securing bolts.
11 Prime the pump before refitting.
Oil pump drive chain and sprockets - examination and renovation
1 Examine all the teeth on the sprockets. If the teeth are "hooked" in appearance, renew the sprockets.
2 Examine the chain tensioner for wear, and renew it if necessary.
3 Examine the chain for wear. If it has been in operation for a considerable time, or if when held horizontally (rollers vertical) it takes on a deeply-bowed appearance, renew it.
See also:
Minor body damage - repair
Note: For more detailed information about bodywork repair, Haynes Publishing produce a book by Lindsay Porter called "The Car Bodywork Repair Manual". This incorporates information on such aspects ...
Throttle position sensor - removal and refitting
Note: During this procedure ensure that the sensor wiper is not rotated beyond its normal operating arc. 2.0 litre SOHC models 1 Disconnect the battery negative lead. 2 Free the throttle position ...
Ignition system component check (Every 24 000 miles (40 000 km) or 2 years)
1 Before disturbing any part of the ignition system, disconnect the battery negative lead. 2 Identify and clearly mark all HT leads before disconnecting them from the spark plugs. 3 Refer to the a ...