Heater unit - removal and refitting
Removal
1 Disconnect the battery negative lead.
2 If the coolant is still hot, release the pressure in the system by slowly unscrewing the expansion tank cap. Place a thick rag over the cap to prevent scalding as the pressure is released.
3 Note the location of the two heater hoses on the engine compartment bulkhead, then disconnect and plug them (see illustration).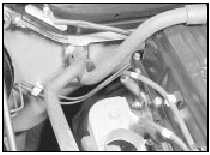 18.3 Location of heater hoses on engine compartment bulkhead
Alternatively, the hoses can be secured high enough to prevent the coolant from draining.
4 To prevent unnecessary spillage of coolant when the heater unit is removed, blow into the upper heater pipe until all the coolant has been expelled through the lower pipe.
5 Remove the two securing screws and withdraw the heater pipe cover from the bulkhead (see illustration). Recover the gasket.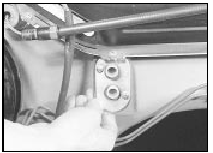 18.5 Heater pipe cover
6 Working inside the vehicle, remove the passenger side lower facia panel.
7 Disconnect the ends of the two control cables from the heater by removing the two retaining screws.
8 Detach the five vent hoses from the heater.
9 Unscrew the two mounting bolts, and move the heater to the rear until the pipes are clear of the bulkhead, then withdraw the heater to the left. If necessary, remove the lower facia bracket (see illustration).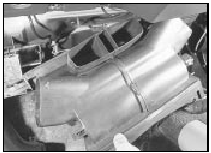 18.9 Withdrawing the heater
Refitting
10 Refitting is a reversal of removal, but adjust the control cables by moving the levers on the control panel to the top and then the bottom stops. Considerable resistance may be encountered when moving the levers towards the bottom stops, which should be overcome.
11 On completion, top-up the coolant level.
See also:
Examination and renovation
Crankshaft, bearings, cylinder bores and pistons 1 Refer to Section 13 in Part A of this Chapter. The information applies equally to the CVH engine, except that standard sized crankshafts are unm ...
Instrument panel components - removal and refitting
Panel illumination and warning lamp bulbs Removal 1 Remove the instrument panel as described in Section 9. 2 Turn the bulbholders anti-clockwise and remove them from the rear of the instrument ...
Fuel and exhaust systems - fuel injection
General information and precautions General information 2.0 litre SOHC models The fuel injection system fitted to these models is of the Bosch L-Jetronic type. The system is under the overall con ...