Steering intermediate shaft and flexible coupling - removal and refitting
Removal
1 Apply the handbrake, jack up the front of the vehicle and support on axle stands.
2 Working in the engine compartment, unscrew the bolt securing the intermediate shaft to the inner column, swivel the clamp plate to one side, and disconnect the intermediate shaft.
3 Unscrew and remove the clamp bolt securing the flexible coupling to the steering gear (see illustration).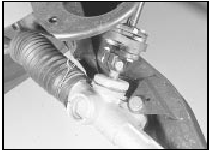 26.3 Intermediate shaft-to-steering gear flexible coupling
4 Mark the coupling in relation to the pinion, then pull off the intermediate shaft and remove it from the vehicle. The pinion has a master spline, but making alignment marks will aid refitting (see illustration).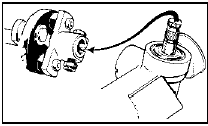 26.4 Master spline location on the steering gear pinion and intermediate shaft coupling
Refitting
5 Refitting is a reversal of removal, but align the marks on the coupling and pinion, and tighten all bolts to the specified torque.