Fuel pressure regulator (models up to 1985) - removal and refitting
Caution: Refer to the precautions in Section 1 before proceeding.
Removal
1 The fuel pressure regulator is located on the left-hand side of the engine compartment (see illustration).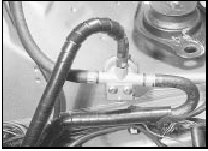 5.1 Fuel pressure regulator location - models up to 1985
2 Disconnect the battery negative lead.
3 Identify the fuel hose locations, as an aid to refitting. Note that there are three hose connections on models without a fuel flow sensor unit, and two hose connections on models with a fuel flow sensor unit.
4 Disconnect and plug the fuel hoses.
5 Remove the two securing screws and withdraw the regulator.
Refitting
6 Refitting is a reversal of removal, ensuring that the fuel hoses are correctly connected. If the hoses were originally secured with crimped type clips, discard them and use new worm drive clips.
See also:
Oil pump - removal and refitting
Removal 1 Remove the sump. 2 Unscrew the bolt securing the pick-up tube and strainer to the cylinder block (see illustration). 30.2 Unscrewing the oil pick-up tube securing bolt 3 Using a suit ...
Maintenance - bodywork, underside and fittings
The general condition of a vehicle's bodywork is the one thing that significantly affects its value. Maintenance is easy but needs to be regular. Neglect, particularly after minor damage, can lead ...
Ignition system component check (Every 6000 miles or 6 months)
1 Where applicable, remove the distributor cap and thoroughly clean it inside and out with a dry lint-free cloth. Examine the four HT lead segments inside the cap. If the segments appear badly bur ...