Fuel pressure regulator (models up to 1985) - removal and refitting
Caution: Refer to the precautions in Section 1 before proceeding.
Removal
1 The fuel pressure regulator is located on the left-hand side of the engine compartment (see illustration).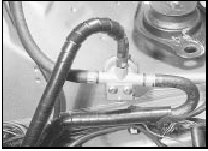 5.1 Fuel pressure regulator location - models up to 1985
2 Disconnect the battery negative lead.
3 Identify the fuel hose locations, as an aid to refitting. Note that there are three hose connections on models without a fuel flow sensor unit, and two hose connections on models with a fuel flow sensor unit.
4 Disconnect and plug the fuel hoses.
5 Remove the two securing screws and withdraw the regulator.
Refitting
6 Refitting is a reversal of removal, ensuring that the fuel hoses are correctly connected. If the hoses were originally secured with crimped type clips, discard them and use new worm drive clips.
See also:
Oil pump - dismantling, inspection and reassembly
Dismantling 1 The oil pump can be dismantled for cleaning, but if any of the components are worn, the pump must be renewed as an assembly. 2 To dismantle the pump, proceed as follows. 3 Unscrew ...
Carburettor overhaul - general information
Faults with the carburettor are usually associated with dirt entering the float chamber and blocking the jets, causing a weak mixture or power failure within a certain engine speed range. If this ...
Steering column adjuster - dismantling and reassembly
Note: A new adjuster locknut and washer must be used on reassembly. Dismantling 1 To dismantle the adjuster assembly, proceed as follows. 2 Remove the locknut and washer securing the adjuster th ...