Fuel pressure regulator (models up to 1985) - removal and refitting
Caution: Refer to the precautions in Section 1 before proceeding.
Removal
1 The fuel pressure regulator is located on the left-hand side of the engine compartment (see illustration).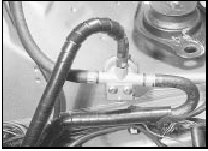 5.1 Fuel pressure regulator location - models up to 1985
2 Disconnect the battery negative lead.
3 Identify the fuel hose locations, as an aid to refitting. Note that there are three hose connections on models without a fuel flow sensor unit, and two hose connections on models with a fuel flow sensor unit.
4 Disconnect and plug the fuel hoses.
5 Remove the two securing screws and withdraw the regulator.
Refitting
6 Refitting is a reversal of removal, ensuring that the fuel hoses are correctly connected. If the hoses were originally secured with crimped type clips, discard them and use new worm drive clips.
See also:
Rear anti-roll bar (Saloon and Estate models) - removal and refitting
Removal 1 Slacken the left-hand roadwheel bolts, raise and support the rear of the car on stands (see "Jacking and Vehicle Support"). Remove the roadwheel. 2 Lever the shackles from the right and ...
Alternator - testing
Note: To carry out the complete test procedure use only the following test equipment - a 0 to 20 volt moving coil voltmeter, a 0 to 100 amp moving coil ammeter, and a rheostat rated at 30 amps. 1 ...
Heater motor/fan - removal and refitting
Removal 1 Open the bonnet, disconnect the battery and pull off the rubber seal which seals the air inlet duct to the bonnet lid when the lid is closed. 2 Prise off the five spring clips from the ...