Fuel pressure regulator (models up to 1985) - removal and refitting
Caution: Refer to the precautions in Section 1 before proceeding.
Removal
1 The fuel pressure regulator is located on the left-hand side of the engine compartment (see illustration).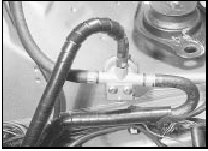 5.1 Fuel pressure regulator location - models up to 1985
2 Disconnect the battery negative lead.
3 Identify the fuel hose locations, as an aid to refitting. Note that there are three hose connections on models without a fuel flow sensor unit, and two hose connections on models with a fuel flow sensor unit.
4 Disconnect and plug the fuel hoses.
5 Remove the two securing screws and withdraw the regulator.
Refitting
6 Refitting is a reversal of removal, ensuring that the fuel hoses are correctly connected. If the hoses were originally secured with crimped type clips, discard them and use new worm drive clips.