Carburettor (Pierburg 2V type) - removal and refitting
1 Proceed as described for the Ford VV carburettor but note the following.
2 The Pierburg carburettor is not fitted with an anti-dieselling valve.
3 Disconnect all relevant wiring plugs and vacuum pipes, if necessary noting their locations as an aid to refitting.
4 Disconnect the throttle arm from the throttle lever by removing the retaining clip instead of disconnecting the cable (see illustration).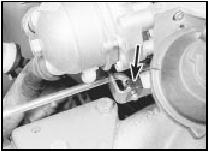 19.4 Throttle arm retaining clip (arrowed) - Pierburg 2V carburettor
5 The carburettor is secured to the inlet manifold by three Torx type screws (see illustration).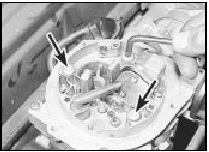 19.5 Removing the carburettor securing screws (arrowed) - Pierburg 2V carburettor
6 On CVH models an insulator block is fitted between the carburettor and the inlet manifold in place of a gasket. There is no need to renew the insulator block on refitting.
Carburettor (Pierburg 2V type) - idle speed and mixture adjustment
Refer to Chapter 1, Sections 15 and 16.
See also:
Engine/transmission - removal and separation
Note: Suitable lifting tackle will be required for this operation. Carburettor engines Removal 1 The engine is removed complete with the transmission in a downward direction and then withdrawn f ...
General information and precautions
The body electrical system consists of all lights, wash/wipe equipment, interior electrical equipment, and associated switches and wiring. The electrical system is of the 12 volt negative earth t ...
Handbrake - adjustment
1 Adjustment of the handbrake is normally automatic by means of the self-adjusting mechanism working on the rear brake shoes. 2 However, due to cable stretch, occasional inspection of the handbrak ...