Carburettor (Pierburg 2V type) - removal and refitting
1 Proceed as described for the Ford VV carburettor but note the following.
2 The Pierburg carburettor is not fitted with an anti-dieselling valve.
3 Disconnect all relevant wiring plugs and vacuum pipes, if necessary noting their locations as an aid to refitting.
4 Disconnect the throttle arm from the throttle lever by removing the retaining clip instead of disconnecting the cable (see illustration).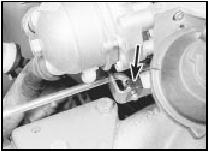 19.4 Throttle arm retaining clip (arrowed) - Pierburg 2V carburettor
5 The carburettor is secured to the inlet manifold by three Torx type screws (see illustration).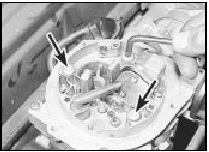 19.5 Removing the carburettor securing screws (arrowed) - Pierburg 2V carburettor
6 On CVH models an insulator block is fitted between the carburettor and the inlet manifold in place of a gasket. There is no need to renew the insulator block on refitting.
Carburettor (Pierburg 2V type) - idle speed and mixture adjustment
Refer to Chapter 1, Sections 15 and 16.
See also:
Maintenance - bodywork, underside and fittings
The general condition of a vehicle's bodywork is the one thing that significantly affects its value. Maintenance is easy but needs to be regular. Neglect, particularly after minor damage, can lead ...
Heater controls - adjustment
1 On heaters with lever control, set both control levers approximately 2.0 mm up from their lowest setting. On heaters with rotary controls set the controls just off the COLD and CLOSED positions. ...
Knock sensor - removal and refitting
Removal 1 The knock sensor is screwed into the cylinder block, near the oil filter (see illustration). 15.1 Knock sensor location - 1.4 CFI engine A Knock sensor B Wiring plug C Securing bolt ...