Exhaust manifold - removal and refitting
Removal
1 Disconnect the battery negative lead.
2 Remove the air cleaner and pull the hot air pick-up pipe from the exhaust manifold hot air shroud.
3 Remove the securing screws (1 screw on DOHC models, 2 screws on SOHC models, 3 screws on CVH models) and lift the hot air shroud from the manifold. Note the position of the coolant hose bracket which is secured by the front hot air shroud securing screw on SOHC models (see illustration).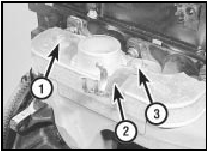 26.3 Exhaust manifold hot air shroud showing securing screws (1 and 3) and coolant hose clip (2) - SOHC models
4 Unscrew the securing nuts, and disconnect the exhaust downpipe from the manifold (see illustration). Recover the gasket. Support the exhaust downpipe from underneath the vehicle, with an axle stand for example, to avoid placing unnecessary strain on the exhaust system.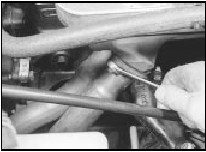 26.4 Unscrewing an exhaust downpipe securing nut
5 Disconnect the HT leads from the spark plugs, if necessary identifying them for locations, and place them to one side out of the way.
6 Unscrew the eight securing nuts, noting the location of the front engine lifting bracket secured by the front two nuts on SOHC models, and lift the manifold from the cylinder head. Recover the gasket(s) where applicable (see illustrations).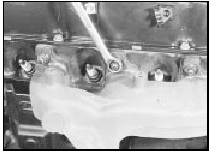 26.6a Unscrew the exhaust manifold securing nuts . . .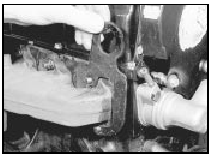 26.6b . . . noting the location of the front engine bracket . . .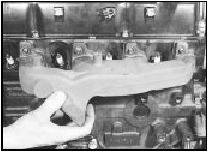 26.6c . . . and lift off the exhaust manifold - SOHC models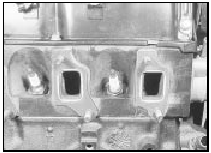 26.6d SOHC models have separate manifold gaskets for each exhaust port
Refitting
7 Refitting is a reversal of removal, bearing in mind the following.
8 Ensure that all mating faces are clean, and renew all gaskets. Note that on CVH models, no gasket is fitted between the manifold and cylinder head in production, but a gasket must be used when refitting. Where applicable, remove the plastic spacer from the rear manifold stud before fitting the gasket (see illustrations).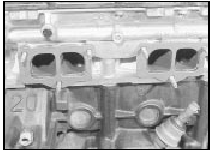 26.8a Exhaust manifold gaskets in position on cylinder head - DOHC models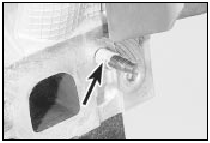 26.8b Remove the plastic spacer (arrowed) before fitting exhaust manifold gasket - CVH models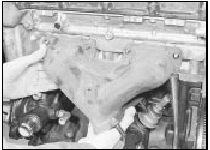 26.8c Fitting the exhaust manifold - DOHC models
9 Tighten the manifold securing nuts progressively to the specified torque, and similarly tighten the exhaust downpipe securing nuts. Do not forget to fit the engine lifting bracket on SOHC models.
10 Ensure that the HT leads are reconnected to their correct cylinders.