Airflow meter - removal and refitting
Note: A tachometer and an exhaust gas analyser will be required to check the idle mixture on completion.
1 Disconnect the battery negative lead.
2 Depress the locking clip on the airflow meter wiring plug and disconnect the plug.
Pull on the plug, not the wiring.
3 Loosen the securing clip and disconnect the air inlet hose from the airflow meter.
4 Release the four securing clips and lift off the air cleaner lid with the airflow meter.
5 Remove the four securing bolts and separate the airflow meter from the air cleaner lid (see illustration). Recover the seal.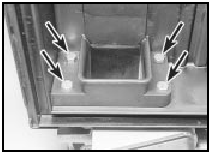 15.5 Airflow meter-to-air cleaner lid bolts (arrowed)
6 Refitting is a reversal of removal, ensuring that the seal is correctly located on the air cleaner lid, and that the air inlet hose clip is correctly aligned (see illustration).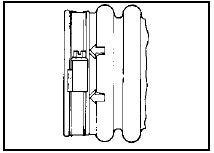 15.6 Air intake hose clip correctly aligned
7 On completion, check and if necessary adjust the idle mixture.
See also:
Bonnet - removal and refitting
Removal 1 Support the bonnet in its open position, and place protective covers (old rags or cardboard) beneath the corners of the bonnet, and over the front wings to prevent damage to the paintwo ...
Flywheel/driveplate - removal, inspection and refitting
Note: New flywheel securing bolts must be used on refitting. 1.8 litre (R2A type) 1 Refer to Section 26, Chapter 2, Part A but also note the following points. 2 The flywheel/driveplate securing b ...
Rear wheel cylinder - removal, overhaul and refitting
Note: Before starting work, refer to the warning at the beginning of Section 2 concerning the dangers of asbestos dust, and to the warning at the beginning of Section 3 concerning the dangers of h ...