Airflow meter - removal and refitting
Note: A tachometer and an exhaust gas analyser will be required to check the idle mixture on completion.
1 Disconnect the battery negative lead.
2 Depress the locking clip on the airflow meter wiring plug and disconnect the plug.
Pull on the plug, not the wiring.
3 Loosen the securing clip and disconnect the air inlet hose from the airflow meter.
4 Release the four securing clips and lift off the air cleaner lid with the airflow meter.
5 Remove the four securing bolts and separate the airflow meter from the air cleaner lid (see illustration). Recover the seal.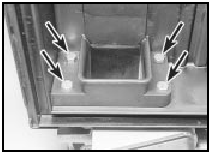 15.5 Airflow meter-to-air cleaner lid bolts (arrowed)
6 Refitting is a reversal of removal, ensuring that the seal is correctly located on the air cleaner lid, and that the air inlet hose clip is correctly aligned (see illustration).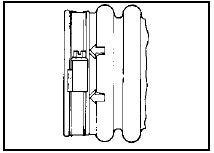 15.6 Air intake hose clip correctly aligned
7 On completion, check and if necessary adjust the idle mixture.
See also:
Fuel pressure regulator - removal and refitting
Note: Refer to the precautions at the end of Section 1 before proceeding. Removal 1 The fuel pressure regulator is only used on KE-Jetronic systems and is located behind the fuel distributor (see ...
Brake hydraulic system (ABS) - bleeding
Caution: The rear brake hydraulic circuit may be under considerable pressure, take care not to allow hydraulic fluid to spray into the face or eyes. Refer to the precautions in Section 1. 1 Keep ...
Spark plug renewal (Every 12 000 miles (20 000 km) or 12 months)
1 The correct functioning of the spark plugs is vital for the correct running and efficiency of the engine. It is essential that the plugs fitted are appropriate for the engine. 2 Make sure that t ...