Bonnet release cable - removal and refitting
Removal
1 Working inside the vehicle, extract the three screws and remove the steering column shroud. Open the bonnet. If the cable is broken, the release latch must be operated using a suitably shaped bar through the grille aperture.
2 Extract the single screw and remove the cable bracket from the steering column.
3 Working within the engine compartment, pull the cable grommet from the bonnet latch bracket and then disengage the cable end fitting from the latch (see illustration).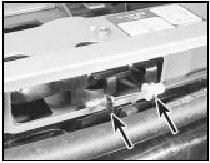 8.3 Bonnet cable attachment at latch and bracket (arrowed)
4 Unclip the cable from the side of the engine compartment.
5 Withdraw the cable through the engine compartment rear bulkhead into the vehicle interior.
Refitting
6 Refitting is a reversal of removal.
See also:
Manual steering gear - removal and refitting
Note: A balljoint separator tool will be required for this operation. Removal 1 Set the front wheels in the straight-ahead position. Ensure that the steering lock is engaged and remove the igniti ...
Wheel sensor (ABS) - removal and refitting
Note: A new O-ring must be used when refitting a sensor. Front wheel sensor 1 Apply the handbrake, loosen the relevant front roadwheel nuts, then jack up the front of the vehicle and support on a ...
Exterior lamp bulbs - renewal
Note: The glass envelopes of the headlamp, auxiliary driving lamp and front foglamp bulbs must not be touched with the fingers. If the glass is accidentally touched, it should be washed with methy ...