Bonnet release cable - removal and refitting
Removal
1 Working inside the vehicle, extract the three screws and remove the steering column shroud. Open the bonnet. If the cable is broken, the release latch must be operated using a suitably shaped bar through the grille aperture.
2 Extract the single screw and remove the cable bracket from the steering column.
3 Working within the engine compartment, pull the cable grommet from the bonnet latch bracket and then disengage the cable end fitting from the latch (see illustration).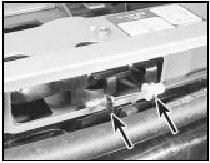 8.3 Bonnet cable attachment at latch and bracket (arrowed)
4 Unclip the cable from the side of the engine compartment.
5 Withdraw the cable through the engine compartment rear bulkhead into the vehicle interior.
Refitting
6 Refitting is a reversal of removal.
See also:
Glove compartment - removal and refitting
Pre-1986 models Removal 1 Open the glovebox lid and extract the screws which hold the glovebox to the facia. 2 Remove the latch (two screws). 3 Remove the single screw inside the top of the glov ...
Inlet manifold - removal and refitting
SOHC models Removal 1 Disconnect the battery negative lead. 2 Partially drain the cooling system. 3 Remove the air cleaner. 4 Disconnect the coolant hoses from the automatic choke (where applica ...
Instrument panel components - removal and refitting
1 Remove the instrument panel. Panel illumination and warning lamp bulbs 2 Twist the relevant bulbholder anticlockwise and withdraw it from the printed circuit board on the rear of the instrument ...