Bonnet release cable - removal and refitting
Removal
1 Working inside the vehicle, extract the three screws and remove the steering column shroud. Open the bonnet. If the cable is broken, the release latch must be operated using a suitably shaped bar through the grille aperture.
2 Extract the single screw and remove the cable bracket from the steering column.
3 Working within the engine compartment, pull the cable grommet from the bonnet latch bracket and then disengage the cable end fitting from the latch (see illustration).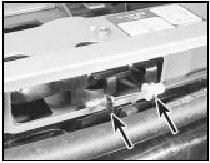 8.3 Bonnet cable attachment at latch and bracket (arrowed)
4 Unclip the cable from the side of the engine compartment.
5 Withdraw the cable through the engine compartment rear bulkhead into the vehicle interior.
Refitting
6 Refitting is a reversal of removal.
See also:
Heater matrix - removal and refitting
Removal 1 With the heater removed from the vehicle as previously described, extract the two securing screws and slide the matrix out of the heater casing. 2 If further dismantling is necessary, c ...
Ford Sierra Service and Repair Manual
Introduction to the Ford Sierra The Ford Sierra was first introduced in late 1982 with the option of seven different engines and four different trim levels. This manual covers the four cylinder in- ...
Contact breaker points renewal (Every 12 000 miles or 12 months)
1 Spring back the retaining clips or undo the screws as appropriate and lift off the distributor cap. 2 Withdraw the rotor arm from the distributor shaft. 3 On the Bosch distributor disconnect th ...