Starter motor - removal and refitting
Removal
1 Apply the handbrake, jack up the front of the vehicle and support on axle stands (see "Jacking and Vehicle Support").
2 Disconnect the battery negative lead.
3 Working underneath the vehicle, unscrew the nut and disconnect the main cable from the starter solenoid (see illustration).

8.3 Solenoid wiring connections on Lucas M79 starter motor- CVH engine
4 Disconnect the ignition switch wire from the solenoid.
5 Unscrew the three mounting bolts and withdraw the starter motor from the gearbox bellhousing (see illustration).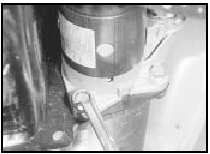 8.5 Unscrew the starter motor mounting bolts
Refitting
6 Refitting is a reversal of removal.
See also:
Cylinder head - removal and refitting (engine in vehicle)
Note: Refer to the warning at the beginning of Section 5 and the note at the beginning of the following Section before proceeding. The cylinder head must not be removed when the engine is warm. R ...
Starting and charging systems
The engine electrical system includes all charging, starting and ignition system components and the engine oil pressure sensor. ...
Exterior lamps - removal and refitting
Headlamp Removal 1 On pre-1986 models, remove the radiator grille as described in Chapter 11. 2 Working in the engine compartment, disconnect the headlamp wiring multi-plug and remove the sidela ...