Starter motor - removal and refitting
Removal
1 Apply the handbrake, jack up the front of the vehicle and support on axle stands (see "Jacking and Vehicle Support").
2 Disconnect the battery negative lead.
3 Working underneath the vehicle, unscrew the nut and disconnect the main cable from the starter solenoid (see illustration).

8.3 Solenoid wiring connections on Lucas M79 starter motor- CVH engine
4 Disconnect the ignition switch wire from the solenoid.
5 Unscrew the three mounting bolts and withdraw the starter motor from the gearbox bellhousing (see illustration).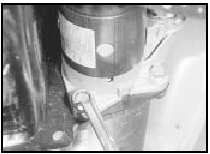 8.5 Unscrew the starter motor mounting bolts
Refitting
6 Refitting is a reversal of removal.
See also:
Glove compartment - removal and refitting
Pre-1986 models Removal 1 Open the glovebox lid and extract the screws which hold the glovebox to the facia. 2 Remove the latch (two screws). 3 Remove the single screw inside the top of the glov ...
Fuel pump - removal and refitting
Note: Refer to the precautions at the end of Section 1 before proceeding. Removal 1 The fuel pump is bolted to the underside of the car just to the rear of the fuel tank. For access raise and sup ...
Pistons and connecting rods - removal and refitting
Note: New connecting rod bolts and a new oil pick-up pipe gasket must be used on refitting. Removal 1 Remove the sump and the cylinder head. 2 Unscrew the two securing bolts, and remove the oil p ...