Load apportioning valve (P100 models) - adjustment
Models before mid-April 1989 1 The vehicle must be unladen, at normal kerb weight (a full tank of petrol, but no driver or load).
2 With the vehicle standing on its roadwheels, remove the spring clip and clevis pin, and detach the spring from the valve operating lever.
3 Loosen the locknut on the abutment block at the bottom of the spring (see illustration).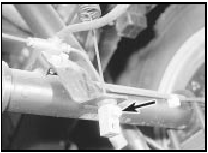 25.3 Loosen the locknut (arrowed) on the abutment block
4 Slide the spring through the grommet in the bracket on the axle, until the correct "X" dimension is obtained between the centre of the spring eye and the centre of the valve operating lever eye (see illustration).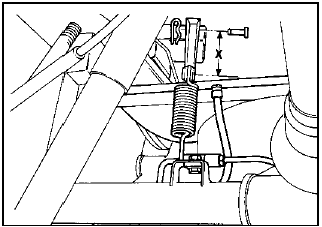 25.4 Load apportioning valve adjustment
X = 77.0 mm (3.0 in) with vehicle unladen at normal kerb weight
5 Hold the spring in position, slide the abutment block against the underside of the grommet, and tighten the locknut.
6 Attach the free end of the spring to the valve operating lever, and refit the clevis pin and spring clip.
Models from mid-April 1989 7 The procedure is as described above, but note that the dimension "X" has been revised to 92.0 mm (3.6 in) with the vehicle unladen at normal kerb weight.
See also:
Front tie-bar - removal and refitting
Pre-May 1983 1.1 litre models Removal 1 Jack up the front of the car and support it on stands (see "Jacking and Vehicle Support"). 2 Unscrew and remove the nut which holds the tie-bar to the larg ...
Handbrake - adjustment
1 Adjustment of the handbrake is normally automatic by means of the self-adjusting mechanism working on the rear brake shoes. 2 However, due to cable stretch, occasional inspection of the handbrak ...
Electro-magnetic pressure actuator - removal and refitting
Note: Refer to the precautions at the end of Section 1 before proceeding. New O-rings must be used on refitting. Removal 1 The electro-magnetic pressure actuator is only used on KE-Jetronic syste ...