Steering wheel - removal and refitting
Removal
1 Set the front wheels in the straight-ahead position.
2 Prise the trim insert from the centre of the steering wheel, and where applicable, disconnect the horn electrical lead(s) (see illustration).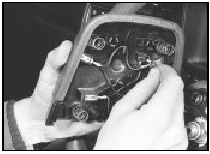 22.2 Prise off the steering wheel trim insert and disconnect the horn electrical lead
3 Insert the ignition key and check that the steering lock is disengaged.
4 Unscrew the retaining nut and withdraw the steering wheel from the hexagon shaped inner column (see illustration). If the wheel is tight on the inner column, sit in the driverís seat and tap the wheel from behind with the palms of the hands (but screw the nut back on two or three turns for safety).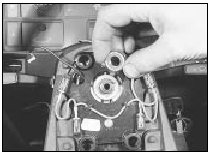 22.4 Removing the steering wheel retaining nut
Refitting
5 Refitting is a reversal of removal, but check that the lug on the direction indicator cam is aligned with the cut-out in the steering wheel, and make sure that the direction indicator switch is in the neutral position. Tighten the retaining nut to the specified torque.
See also:
Method of engine removal
Warning: Vehicles equipped with air conditioning: Components of the air conditioning system may obstruct work being undertaken on the engine, and it is not always possible to unbolt and move the ...
Front wheel alignment - checking and adjusting
1 Front wheel alignment is defined by camber, castor steering axis inclination and toe setting. The first three factors are determined in production; only toe can be adjusted in service. Incorrect ...
Heater - removal and refitting
Removal 1 Disconnect the battery negative lead. 2 Refer to Chapter 11 and remove the centre console. 3 Working within the engine compartment, disconnect the coolant hoses from the heater pipe st ...