Power steering gear - removal and refitting
Note: New power steering fluid hose O-rings will be required when refitting.
Removal
1 The procedure is as described for manual steering gear with the following differences (see illustration).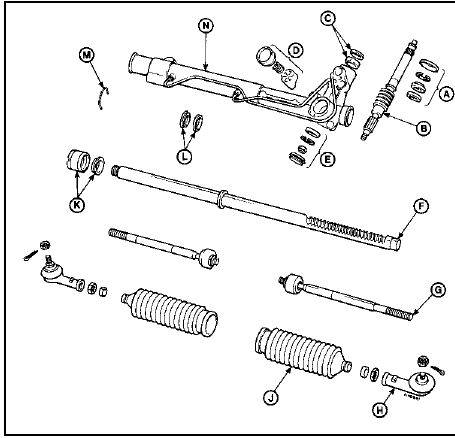 28.1 Power steering gear components
A Pinion locknut assembly B Pinion
C Pinion upper bearing and seal D Slipper assembly
E Pinion lower bearing assembly F Rack
G Tie-rod
H Tie-rod end
J Gaiter
K Rack support bearing and seal L Inner rack seal and support bearing M Rack support bearing locking wire N Steering gear housing
2 Before removing the steering gear from the suspension crossmember, place a suitable container beneath the steering gear. Unscrew the single bolt securing the power steering fluid hoses to the pinion housing. Unscrew the hose unions and drain the power steering fluid. Plug the ends of the hoses and the steering gear apertures, or cover them with masking tape to prevent dirt ingress.
Refitting
3 When refitting the fluid hoses, use new O-rings, and take care not to overtighten the unions. Note that with the unions fully tightened it is still possible to rotate and move the hoses.
4 On completion of refitting, bleed the power steering fluid circuit (Section 34).
See also:
Dimensions and Weights
Note: All figures are approximate, and may vary according to model. Refer to manufacturer's data for exact figures. Dimensions Overall length: Pre-1986 models: Saloon and Cabriolet . . . . . . . ...
Instrument panel components - removal and refitting
1 Remove the instrument panel. Panel illumination and warning lamp bulbs 2 Twist the relevant bulbholder anticlockwise and withdraw it from the printed circuit board on the rear of the instrument ...
Piston/connecting rod assemblies - removal and refitting
Note: A piston ring compressor tool will be required for this operation. Removal 1 Remove the cylinder head and the sump as described in Sections 4 and 5 respectively. Do not remove the oil pick- ...