Tailboard (P100 models) - removal and refitting
Removal
1 Lower the tailboard to the open position.
2 Detach the rear lamp wiring cover on one side of the vehicle by removing the two securing screws (see illustration).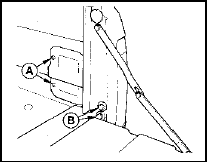 24.2 Rear lamp wiring cover screws (A) and tailboard hinge screws (B)
3 Remove the four rear lamp securing nuts, and withdraw the rear lamp assembly.
Disconnect the wiring plug.
4 Raise the tailboard by approximately 20º, lift the centre pivot of one of the support arms, and when the bolt head on the tailboard is aligned with the slot in the support arm, pull the support arm clear. Repeat this procedure for the remaining support arm, and lower the tailboard to the vertical position.
5 On the side of the vehicle from which the rear lamp has been removed, remove the two screws securing the tailboard hinge to the cargo area.
6 Close the tailboard and lever out the hinge.
7 Pull the free end of the tailboard away from the cargo area, and carefully prise the remaining end from its hinge. Withdraw the tailboard from the vehicle.
8 If required, the pivot bushes can be removed from the tailboard for renewal.
Refitting
9 Refitting is a reversal of removal.
See also:
Crankshaft front oil seal - renewal
1.8 litre (R2A type) 1 Remove the timing belt and the crankshaft sprocket and thrustwasher. 2 Withdraw the oil seal using an oil seal removal tool or by drilling the oil seal outer face and using ...
Road test (Every 12 000 miles (20 000 km) or 12 months)
Instruments and electrical equipment 1 Check the operation of all instruments and electrical equipment. 2 Make sure that all instruments read correctly, and switch on all electrical equipment in ...
Heated rear window aerial amplifier - removal and refitting
Removal 1 On some 1986 models onwards the radio aerial is incorporated in the heated rear window element, and to assist reception an amplifier is fitted. This is located in the tailgate adjacent ...