Speedometer cable - removal and refitting
Removal
1 On models fitted with a trip computer, remove the speed sender unit.
2 Remove the instrument panel.
3 Pull the cable through the bulkhead into the engine compartment, and where applicable release it from the securing clips. On models fitted with a trip computer, the upper section of the cable can now be removed.
4 Apply the handbrake, jack up the front of the vehicle and support on axle stands (see "Jacking and Vehicle Support").
5 On vehicles with a manual gearbox, extract the circlip securing the cable end to the extension housing and withdraw the cable end (see illustration).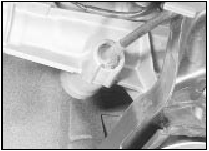 30.5 Speedometer cable end fitting in manual gearbox extension housing
6 On vehicles with automatic transmission, remove the securing screw and disconnect the cable end from the extension housing.
7 The cable can now be withdrawn from the vehicle, noting its routing so that it can be refitted in the same position.
Refitting
8 Refitting is a reversal of removal, but where applicable, ensure that the speedometer cable rubber sleeve is in place over the square inner drive on the cable connector, and not in the speedometer head. Position the cable so that the coloured bands on the cable sheath line up with the bulkhead grommet and the clips in the engine compartment. Route the cable as noted during removal.
9 On completion, pull the speedometer cable from within the engine compartment to ensure that the cable is straight between the instrument panel and the bulkhead grommet.
Wiper blades - renewal
1 The wiper blades should be renewed when they no longer clean the glass effectively.
2 Lift the wiper arm away from the glass.
3 With the blade at 90º to the arm, depress the spring clip and slide the blade clear of the hook, then slide the blade up off the arm.
4 If necessary extract the two metal inserts and unhook the wiper rubber.
5 Fit the new rubber and blade in reverse order, making sure where necessary that the cut-outs in the metal inserts face each other.
Wiper arms - removal and refitting
Windscreen and rear wipers 1 Lift the hinged covers and remove the nuts and washers securing the arms to the spindles.
2 Mark the arms and spindles in relation to each other then prise off the arms using a screwdriver.
Take care not to damage the paintwork.
3 Refitting is a reversal of removal.
Headlamp wipers
4 The procedure is as described in paragraphs 1 to 3, but the washer hose must be disconnected from the nozzle on the wiper arm (see illustration).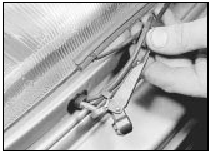 32.4 Removing a headlamp wiper arm