Front direction indicator lamp unit - removal and refitting
1 Disconnect the battery negative lead.
Models up to 1987
Low specification
2 Push the lamp unit rearwards into the bumper until the plastic retaining tang is heard to click in the locked position.
3 Withdraw the lamp unit from the front of the bumper and disconnect the wiring plug (see illustration).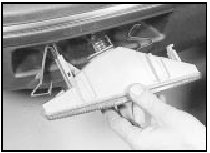 44.3 Withdrawing a front direction indicator lamp unit - "low specification" models up to 1987
4 Commence refitting by reconnecting the wiring plug.
5 Release the retaining tang, then refit the lamp unit to the bumper, ensuring that the pivot on the lamp unit engages with the slot in the bumper. Reconnect the battery.
High specification
6 Press the release lever at the top of the lamp unit upwards, and withdraw the unit from the bumper. Disconnect the wiring plug.
7 To refit, reconnect the wiring plug, then push the lamp unit into the bumper until it locates securely. Reconnect the battery.
All models from 1987
8 Working in the engine compartment, unhook the lamp unit anchor spring from its anchorage next to the headlamp, then withdraw the lamp unit sideways from its recess (see illustrations). Disconnect the bulbholder by twisting it anti-clockwise.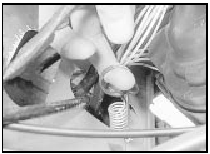 44.8a Unhook the front direction indicator lamp unit anchor spring . . .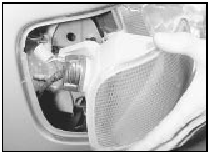 44.8b . . . and withdraw the lamp unit
9 Refitting is a reversal of removal, but ensure that the locating pins on the lamp unit engage with the corresponding holes in the headlamp mounting panel.
See also:
Fluid leak check (Every 6000 miles (10 000 km) or 6 months)
1 Visually inspect the engine joint faces, gaskets and seals for any signs of water or oil leaks. Pay particular attention to the areas around the rocker cover, cylinder head, oil filter and sump ...
Centre console - removal and refitting
Removal 1 Remove the gear lever knob. 2 Pull the rubber gaiter up the lever and remove it. 3 Undo the four screws and remove the console (see illustrations). 30.3a Centre console lower retaini ...
Seating
Notes: Reclining the seatback can cause an occupant to slide under the seat's safety belt, resulting in severe personal injuries in the event of a collision. Do not pile cargo higher than the seat ...